EDWARD W. DAY, LTJG, USN
From USNA Virtual Memorial Hall
Birthdate & Date of Loss
| | |
| --- | --- |
| Date of birth: | 1921 |
| Date of death: | February 15, 1945 |
| Age: | ~23 |
Lucky Bag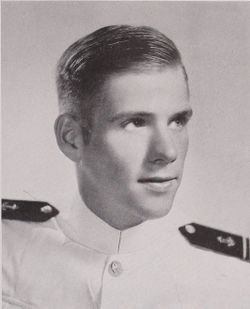 From the 1944 Lucky Bag:
Edward William Day

Sellersville, Pennsylvania

Ed is the kind of lad who picks his goal, sets himself for it and either gets there or goes down fighting. He did not excel in any one sport, but tried each and every one successively. Since leaving his little town in eastern Pennsylvania, his whole life has been wrapped up in and built around his chosen profession, the Navy. Ed was one of the few who gave up their leave first class summer to serve aboard one of our fighting ships. A desire to excel in everything military assures his suc- cess in the fleet during these years of peril. Fair weather and smooth sailing, Ed!
Edward's Lucky Bag entry is titled "Edwin"; believe this to be an intentional decision, as he was a member of the Lucky Bag staff. The Annual Register of the United States Naval Academy of 1942-1943 lists no "Edwin W. Day" among the graduating class of 1944; however, there is Edward.
The Class of 1944 was graduated in June 1943 due to World War II. The entirety of 2nd class (junior) year was removed from the curriculum.
Loss
From Ottumwa Daily Courier on February 13, 1945:
Plane Crash Fatal To Officer Trainee

The crash of a training plane from the Ottumwa naval air station last Thursday resulted in the death yesterday of Lt. (jg) Edward W. Day, 23, USN, of Sellersville, Pa. Lieutenant Day was critically hurt when the plane crashed about midway between Hedrick and Delta, while the officer trainee was on a routine solo flight. The injured man waa removed to the Great Lakes, IL., naval hospital on Sunday, where he died the following morning. A graduate of the naval academy at Annapolis, Lieutenant Day had served 12 month at sea in the Pacific area before coming to Ottumwa last November 2 to learn to fly. He resided in Ottumwa with his wife, Anne Warner Day.
Edward is buried in Pennsylvania.
Related Articles
Louis Sugg '44 was also on the Lucky Bag staff.