ERNEST H. GREPPIN, III, LTJG, USN
From USNA Virtual Memorial Hall
Lucky Bag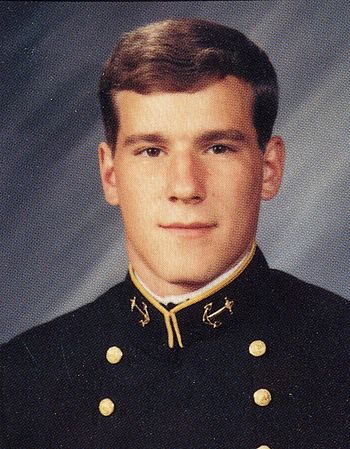 Obituary
From Veteran Tributes:
Ernest Greppin was born on May 25, 1967, in Boston, Massachusetts. He entered the U.S. Naval Academy in June 1985, and was commissioned an Ensign in the U.S. Navy on May 31, 1989. Ensign Greppin completed his fleet training, and then attended Basic Underwater Demolition/SEAL training at Naval Amphibious Base Coronado, California, from October 1989 to April 1990, followed by Basic Airborne training at Fort Benning, Georgia, in April and May 1990. His first assignment was with SEAL Team TWO at NAB Little Creek, Virginia, from May 1990 until he was killed in a parachute training accident in Coronado, California, on July 15, 1991. Ernest Greppin was buried at Hingham Cemetery in Hingham, Massachusetts.
From the November 1991 issue of Shipmate:
Lt. (jg) Ernest Haquette Greppin, III USN of Westwood, Mass. formerly of Hingham, Mass., died in a parachute training accident in San Diego, Calif. 15 July 1991. A private burial service was held at The Hingham Cemetery following a memorial service at St. Paul's Church, Dedham, Mass. Donations in Ernie's memory may be made to The Henley Fund, St. Anchew's School, Middletown, Del. 19709. He was 24 years of age.

Lt. (jg) Greppin attended Derby Academy, Hingham, Mass., Dedham Country Day School, Dedham, Mass., and graduated from The Fessenden School, West Newton, Mass. and St. Andrew's School, Middletown, Del. He was a 1989 graduate of the United States Naval Academy. An oarsman, he rowed at The Royal Henley Regatta in 1985 for St. Andrew's School and was a member of the Heavyweight Varsity Crew at the Academy. In addition, he was a member of toe Union Boat Club of Boston.

From the Naval Academy Lt. (jg) Greppin went on to become a member of the Navy's Seal Team 2. He was a graduate of Army Airborne School as a Naval parachutist. He was designated a Naval Special Warfare Officer on 16 November 1990. He was awarded the National Defense Service Medal in June, 1991.

He is survived by his parents Mr. and Mrs. Ernest Haquette Greppin, Jr. of Westwood, Mass. and his sister Barbara Ripley Greppin of Middletown, Del. He also leaves his matemal grandmother Mrs. Lawrence Dana of Cumberland Foreside, Maine and eight cousins.
Ernest is one of 6 members of the Class of 1989 on Virtual Memorial Hall.
The "category" links below lead to lists of related Honorees; use them to explore further the service and sacrifice of the alumni in Memorial Hall.