ERNEST J. EHLERS, LCDR, USN
From USNA Virtual Memorial Hall
Date of birth: September 27, 1935
Date of death: April 3, 1969
Age: 33
Lucky Bag
From the 1959 Lucky Bag:
Loss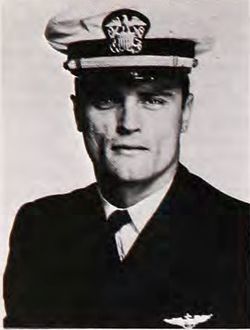 From the July-August 1969 issue of SHIPMATE:
LCdr. Ernest J. Ehlers, USN, died 3 April in an aircraft accident near Luray, Va. Memorial services were held in the Chapel of the Good Shepherd, Oceana, followed by interment in Arlington National Cemetery, with full military honors.

LCdr. Ehlers was born in Pottsville, Pa., attended Wyoming Seminary, Kingston, Pa., and enlisted in the Naval Reserve in 1953; he was graduated from the Naval Academy with the class of 1959. He received his wings in Dec. 1960 at New Iberia, La., and a Bachelor's degree in aeronautical engineering from the Naval Postgraduate School in 1966. His assignments included training with Air Anti-Submarine Squadrons 30 at Key West, Fla., and 31 at Quonset Point, R.I., and with Attack Squadron 42; he also served as project officer in the Office of Naval Research. Stationed at the Naval Air Station at Oceana, LCdr. Ehlers was attached to Attack Squadron 35 at the time of the accident.

Survivors include his widow Joanne of 3604 Prince Andrew Lane, Virginia Beach, Va. 23452; a son John Ernest; three daughters Mary, Judianne and Charlene; his parents Mr. and Mrs. Ernest H. Ehlers of 1262 Mt. Hope Ave., Pottsville, Pa. 17901, and two brothers Allan and Bernard Ehlers.
He is buried in Arlington National Cemetery.
Related Articles
Badger Smith, III '59 was also in 19th Company.
Ernest is one of 31 members of the Class of 1959 in Memorial Hall.