ERNEST R. GENTER, JR., LTJG, USN
From USNA Virtual Memorial Hall
Date of birth: February 25, 1929
Date of death: March 27, 1957
Age: 28
Lucky Bag
From the 1952 Lucky Bag:
Loss
Ernest was lost on March 27, 1957 "in an aircraft accident at sea." He was a member of Fighter Squadron (VF) 142 and flying from USS Hornet (CVA 12). He was survived by his wife and son. (Information from May 1957 issue of Shipmate.)
Other
He is pictured in the USS Boxer (CVA 21) cruise book from 1955-1956. He was a member of Fighter Squadron (VF) 142, flying F9F-6 Cougars.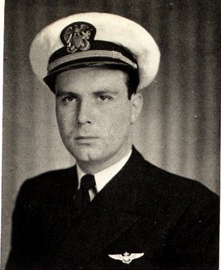 In the Class of 1952's book, "As We Recall," the only information given is "aircraft accident 1956."
Other
From San Bernardino (CA) Sun on March 25, 1955:
The pilot of a jet plane in a screaming dive to earth made a detailed report by radio. Navy officers said Thursday [March 24] he may have provided information that will help prevent future crashes. Lt. (j.g.) Ernest R. Genter, San Diego, rode the Navy F9F6 Panther jet down from 38,000 to 15,000 feet. He made a successful parachute ejection and landed safely half a mile from the burning wreckage. Squadron mates heard his description of how automatic mechanism locked in such a way as to turn the plane nose down and of his efforts to regain control.
Ernest is one of 50 members of the Class of 1952 on Virtual Memorial Hall.
The "category" links below lead to lists of related Honorees; use them to explore further the service and sacrifice of the alumni in Memorial Hall.