ERNEST R. GENTER, JR., LTJG, USN
From USNA Virtual Memorial Hall
Lucky Bag
From the 1952 Lucky Bag:
Ernest Redfield Genter, Jr.

Pittsburgh, Pennsylvania

This Pittsburgh boy really carved a niche for himself in the hallowed halls of Bancroft. He has a sharp knife! With a few of his shenanigans every once in a while, our burden became just a little bit lighter to take. Ernie anchored the line in batt football plebe year and since held his own on the Radiator Squad. He was never known to bone, yet stood in good stead with the Academic Department. In his spare time he ran the model railroad. The two big interests in his life are a certain sweet girl from the old home town and Naval aviation. It has been said that he had F9F's on the brain, and have you ever noticed his expert doodling in class?
Life & Loss
Unable to find any information about Ernest's life or loss. He is pictured in the USS Boxer (CVA 21) cruise book from 1955-1956; there is no In Memoriam page or indication that any aircraft mishaps occurred during that cruise. He was a member of Fighter Squadron (VF) 142, flying F9F-6 Cougars.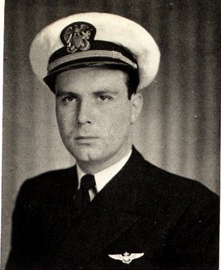 In the Class of 1952's book, "As We Recall," the only information given is "aircraft accident 1956."
Other
From San Bernardino (CA) Sun on March 25, 1955:
The pilot of a jet plane in a screaming dive to earth made a detailed report by radio. Navy officers said Thursday [March 24] he may have provided information that will help prevent future crashes. Lt. (j.g.) Ernest R. Genter, San Diego, rode the Navy F9F6 Panther jet down from 38,000 to 15,000 feet. He made a successful parachute ejection and landed safely half a mile from the burning wreckage. Squadron mates heard his description of how automatic mechanism locked in such a way as to turn the plane nose down and of his efforts to regain control.