FRANKIE L. NAYLOR, LT, USN
From USNA Virtual Memorial Hall
Birthdate & Date of Loss
| | |
| --- | --- |
| Date of birth: | unknown |
| Date of death: | October 2, 1957 |
| Age: | unknown |
Lucky Bag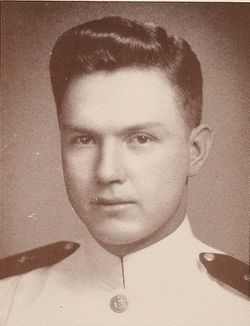 From the 1953 Lucky Bag:
FRANKIE LEE NAYLOR

Finger, Tennessee

Frankie, the "Farmer from Finger" was reared on a little farm in the hills of western Tennessee. He often muttered about the folly of wearing shoes when it wasn't cold out. Frank was one of the easiest going, friendliest guys ever put on this earth. He had a quick laugh and an even quicker blush. His one mania was gathering all the clippings on the Navy football team he could. A magazine or paper just wasn't safe on Sunday with Frank around. Academics didn't offer Frank much trouble so he spent a good deal of his time in the rack. His dream was winning Navy wings and jockeying a jet.
He was also a member of the 23rd Company staff for the spring set.
Loss
Frankie was lost when he suffered a "cold cat" on launch from USS Ticonderoga (CVS 14) on October 2, 1957. He was piloting an A-4 Skyraider with Attack Squadron (VA) 93. Unable to find a burial or memory marker location.
Family
His mother passed away in 2001; Frankie was survived by his parents, four sisters, and a brother.