FRANK W. BOWDON, ENS, USN
From USNA Virtual Memorial Hall
Frank Welch Bowdon was admitted to the Naval Academy from Texas on September 11, 1875 at age 17 years 7 months.
Loss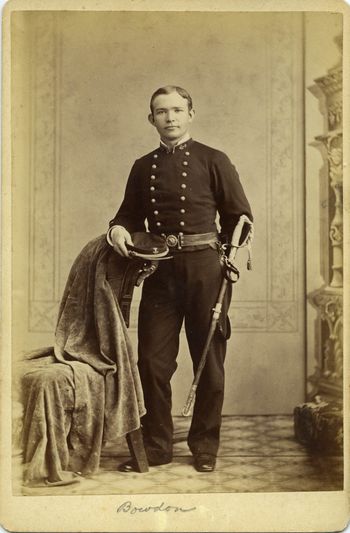 From America's Man in Korea: The Private Letters of George C. Foulk, 1884-1887:
The Trenton went to Nagasaki about ten days ago. Just before she left Ensign Bowdon died of black measles at Chemulpo. His death was a very sad one. He was with me in the Library of the Navy Department while I was there, and I therefore knew him particularly well. That he died here was all the sadder, because he was almost decided to resign just before the Trenton left New York, to study law with his brother. He was an earnest, good officer, quiet and well liked. He was very fat, and when the measles fever set in, he could not perspire, the pores having closed up. So he died suddenly of blood poisoning. Ip-tong, Kachon Kol, Seoul, July 22, 1884
Other Information
From researcher Kathy Franz:
Frank was born in Texas and was a typesetter in Palestine at the age of 12. His father Lewis was a school teacher who died in November 1863, and his baby brother Lewis died in January 1864 at the age of 6 months. His mother Drucilla, his brothers Charles and D.C., and his sisters Louisa and Emma were all born in Alabama. The family moved from Shelby County, Alabama to Palestine sometime in the late 1850s. Frank was named after his uncle the Hon. Franklin Welsh Bowdon.
Career
From Proceedings of the United States Naval Institute:
Ensign Frank Welch Bowdon. Born January 16, 1858. Appointed a Cadet Midshipman, September 24, 1875. Graduated, June 3, 1880. Ordered to the Galena, August 13, 1880, and detached June I, 1882. Appointed a Midshipman, June 22, 1882. Ordered to training ship New Hampshire, August 18, 1882, and on October 4 was detached and ordered to special duty in Bureau of Navigation. Commissioned an Ensign, Junior Grade, March 3, 1883. Ordered, September 1, 1883, to Trenton. He died on board the Trenton, at Korea, on June 24, 1884. Total sea service, two years, eleven months. Shore duty, five years and four months. Total service, eight years and nine months.
From Naval History and Heritage Command:
Cadet Midshipman, 24 September, 1875. Graduated, 22 June, 1882. Ensign, Junior Grade, 3 March, 1883. Died 24 June, 1884.
It appears that a letter of his was published in the Galveston Daily News on May 19, 1884. He was serving aboard USS Trenton (1876), which was the first Navy ship to receive electric lights.
Seems likely that this father: Franklin Welsh Bowdon.
Class of 1880
Frank is one of 4 members of the Class of 1880 on Virtual Memorial Hall.
The "category" links below lead to lists of related Honorees; use them to explore further the service and sacrifice of alumni in Memorial Hall.