FRASER W. SPILLER, LTJG, USN
From USNA Virtual Memorial Hall
Birthdate & Date of Loss
| | |
| --- | --- |
| Date of birth: | unknown |
| Date of death: | July 16, 1956 |
| Age: | unknown |
Lucky Bag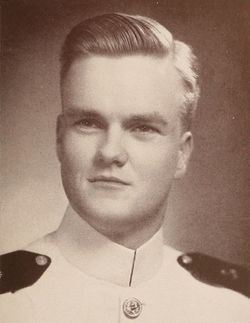 From the 1953 Lucky Bag:
FRASER WILLIAM SPILLER

Marion, Illinois

Bill was born in Annapolis, while his Dad (class of 1925) was attending P.G. School. Seven duty stations later, (Washington, D.C.) some inner nautical yearning brought Bill back to Crabtown ... to the inner side of the Wall. He was a plebe while his brother was a first-classman in another battalion. He held his own in bull sessions . . . but not so in "Bull" classes. He was definitely carnivorous . . . beef his favorite . . . but he still had a weekly battle with the scales to make his wrestling weight. Most people notice one thing immediately when they're with Bill: he's at ease wherever he is. Stability and a pleasant disposition are fine companions. So is Bill.
Loss
Fraser was lost when his aircraft crashed south of Okinawa on July 16, 1956. He was survived by his parents and brother; his dad was a retired Navy Captain and his brother was a LT aboard USS Sailfish (SS 572).