FREDERICK R. ALMAN, CAPT, USANG
From USNA Virtual Memorial Hall
Frederick Rex Alman was admitted to the Naval Academy from California on June 27, 1955 at age 20 years 3 months.
Lucky Bag
Frederick is listed in the 1959 Lucky Bag under the following paragraph:
Of the eleven hundred and twenty-eight '59ers who started on the long, hard road to success in June of 1955, it was inevitable that some would resign and others would be forced to leave for one of many reasons. These three hundred and forty- three men were known to many and will never be forgotten. They constitute a cross section of the finest men in America, destined to excel in other fields. It was sad seeing them leave and sadder for them because they had to leave. A long time elapsed before companymates grew accustomed to the lack of a certain smile, a unique laugh, an empty seat in class and a friend to help carry the burden of day to day problems. Here are fine shipmates, never to be.
Loss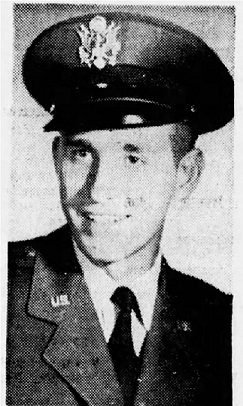 Frederick was lost on August 6, 1967 when the F-100 Super Sabre he was piloting crashed near Indiantown, Pennsylvania, while on a "practice strafing run." He was a member of the New Jersey Air National Guard.
Biography
From Courier-Post from Camden, New Jersey on August 7, 1967:
Military authorities so far have not issued any statements regarding the crash. Capt. Alman, identified as the pilot by State Police at Jonestown, was attached to the 177th Tactical Fighter Group in Atlantic City.

He was a partner with his father in the firm and Alman and Son, manufacturers representatives. The firm represented the American Furniture Company, Martinsville, Va. A 1959 graduate of UCLA, the pilot was commissioned a second lieutenant in the U.S. Air Force. At UCLA, he won the Professor of Air Science Award as the outstanding cadet in the Reserve Officers Training Corps. He also attended the Naval Academy at Annapolis, Md., before transferring to UCLA. During the final three of his five years in the Air Force, Capt. Alman co-piloted a B-47 for the Strategic Air Command. He was stationed at David Monathan Air Base in Tuscon, Ariz.

Capt. Alman left the Air Force in 1964 to join his father in the sales firm. He became a member of the Air National Guard and earlier this summer was honored as the outstanding company grade officer in the New Jersey National Guard. Surviving are his wife, Dorothy; three sons, Gregg, 11; Jon, 7, and Tom Scott, 5; his parents, Mr. and Mrs. S. Jacob Alman of Cherry Hill, and a brother.
He is buried in New Jersey.
From Class of 1959:
Frederick Rex Alman (March 30, 1935 thru August 6, 1967)

Indiantown Gap, Pa. - A 32-year-old Air National Guard pilot was killed at noon Sunday when his jet fighter crashed in a wooded area of the northwest corner of Indiantown Gap Military Reservation.

The F-100 Phantom jet, piloted by Capt. FREDERICK REX ALMAN, was flying simulated strafing runs on designated targets, a mission that was coordinated with the ROTC training exercises at the Gap.

The crash occurred during a strafing run, according to Cpl. Eugene Rickert, Jonestown state police.

Because the cause of the crash is undetermined, a team of U.S. Air Force personnel was expected to arrive at the Gap today to investigate the mishap.

Although the crash occurred in Dauphin County, it was originally believed to have happened in Lebanon County. For this reason, Dr. Harry W. Reed, Lebanon County deputy coroner, was called out to issue the death certificate.

The pilot did not eject from the plane. His body was found with the wreckage.

On Active Duty.Capt. ALMAN, a resident of Cinnaminson, N.J., was on active duty attached to the 177th Tactical Fighter Group of the New Jersey Air National Guard, which is stationed at Atlantic City, N.J.

The Indiantown Gap firemen were called to the scene following the crash.

In addition to the Air Force investigators, Trooper Bernard E. Chaback, of the state Aeronautics Commission, will continue checking into the mishap.

Lebanon Daily News Pennsylvania 1967-08-07

NOTE: Capt Alman was a non-grad who resigned from the Naval Academy November 30, 1955. He continued his military career with the Air Force / Air National Guard.
Memorial Hall Error
Frederick should be included in Memorial Hall with his classmates. His omission was identified by a Class of 1959 representative.
Frederick is one of 32 members of the Class of 1959 on Virtual Memorial Hall.