GARWOOD W. BACON, LT, USN
From USNA Virtual Memorial Hall
Lucky Bag
From the 1968 Lucky Bag:
Shipmate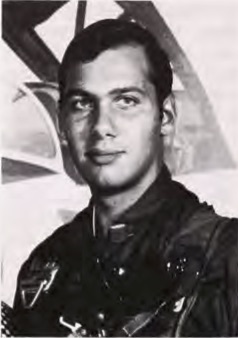 From the December 1975 issue of Shipmate:
Lt. Garwood William Bacon USN was lost at sea off the coast of Scotland as the result of a mid-air collision during a refueling exercise on 23 August 1975. Memorial services were held on 26 August in the Calvary Presbyterian Church of Riverton, New Jersey.

Entering the Naval Academy from the State of New Jersey, he was graduated in the Class of 1968. He later earned a masters degree in aerospace engineering at Princeton University on a Guggenheim Fellowship. After having taken aviation training he was assigned various squadrons where he earned the "Tail Hook Award" for excellence in carrier landings and a "Bull's Eye Award" for accuracy in target bombing. He also developed an intercom system for use in spacecraft training during summer internship at the NASA Space Center in Houston.

At the time of the fatal accident he was attached to Attack Squadron 35 at the Naval Air Station Oceana, Virginia Beach, Virginia, and was flying from the USS Nimitz. He was to have been named pilot of the year by Attack Squadron 42, a specialized A-6 Intruder aircraft training unit.

He is survived by his widow, Ruthellen, of 3904 Seeman Road, Virginia Beach 23452; a son, Garwood W. Jr., born 10 September; his parents, Mr. and Mrs. M. Garwood Bacon Jr. of Riverton; and his grandmother and four brothers including Midn. Glenn Bacon USN '77.
Loss
From Wikipedia:
A Grumman A-6E Intruder, BuNo 149948, 'AJ-500', of VA-35, and an McDonnell Douglas F-4J Phantom II from USS Nimitz collide in midair over the Atlantic Ocean during a refueling maneuver ~600 miles SSW of Scotland. A spokesman said that the two crew of the A-6 were missing and presumed dead while the two Marine crew of the F-4J were recovered. Killed in the accident was the pilot of the A-6, Lt. Garwood Bacon of Riverton, New Jersey, as well as the navigator, Lt. Craig Renshaw of Middletown, Pennsylvania. Lt. Bacon was survived by his wife, Ruthellen (Welker) Bacon and his son, Garwood W. Bacon, Jr., born three weeks after his father's death. Lt. Bacon graduated from the U.S Naval Academy in 1968, was a Guggenheim Fellow at Princeton in Aerospace engineering, had worked with the Houston Space Center, and was likely to be named pilot of the first or second space shuttle.
The last sentence is cited to "United Press International, "Two Navy Planes Crash in Midair", Playground Daily News, Fort Walton Beach, Florida, Tuesday 26 August 1975, Volume 30, Number 172, page 4A."
Related Articles
Daniel Still '68 and Philip Clark, Jr. '68 were also in 5th Company.
Garwood is one of 29 members of the Class of 1968 on Virtual Memorial Hall.