GARY B. SIMKINS, LT, USN
From USNA Virtual Memorial Hall
Lucky Bag
From the 1965 Lucky Bag:
Loss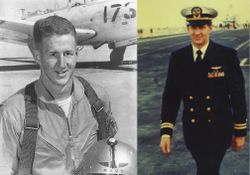 From Wall of Faces:
On April 3, 1973, LT Gary B. Simpkins was the pilot of a USN A-7 Corsair II (#158680) from Attack Squadron 22 (VA-22), Carrier Air Wing 15 (CVW-15), assigned to the USS Coral Sea. In attempting a catapult launch off the carrier, LT Simpkins' Corsair lost power and went into sea. He was fatally injured in the incident. His body was recovered.
Because his loss was not due to enemy action, his name is not on the killed in action panel in the front of Memorial Hall. He is, of course, listed with his classmates.
Reclassification and Remembrance
From Together We Served:
Postscript: Brother's Name added to 'Nam memorial
By Bob Partlow, Gannett News Service


Gary Simkins was a naval aviator with more than 200 combat missions in Vietnam who "died doing what he wanted to do," according to his brother, Larry Simkins of Bellingham.

Gary's name will be one of four from Washington state added to the Vietnam Memorial in Washington, D. C. Ceremonies honoring the four state men were held today at the state capital in Olympia, led by Gov. Booth Gardner and Secretary of State Ralph Munro.

Gary was killed in the South China Sea on 3 Apr 1973. His plane had just catapulted off the USS Coral Sea when it exploded, according to his mother, Beth Simkins, of Port Angeles. Because he wasn't in a combat zone, he wasn't listed on the memorial wall in the nation's capital. But the U. S. government has now expanded the definition of what constitutes a combat casualty, and Gary's name will be included.

"It means a lot to me," said his brother, who does maintenance work for the Whatcom County Park and Recreation Department and was manager at Hovander Park for 14 years. "I'm happy for my parents' sake. It's been a real long, grueling affair. It's been a difficult thing to live with."

Gary was five years older than his brother and they were "pretty close," according to Larry. Gary attended the U. S. Naval Academy and then began flying, his brother said.

"He always wanted to be a flyboy; that's why he went into the Navy," said Larry.

His parents did not lead the effort to get the additional names included on the memorial wall, but they supported it. Beth Simkins helped locate the family of one of the Washington state men. and Gary's father, Glen, will take part in Memorial Day ceremonies in Washington, D. C., reading 17 of the names that will be added to the wall.

Beth Simkins said she is proud to have her son's name among them. "I feel it's such an honor after 13 years," she said. More than an honor is involved, however: both she and Larry hope it will contributed to the healing process. "They say it's a real healing process to have it included in the wall," Larry said.

Added his mother: "It is a healing process and we need it." The ceremonies were held in Olympia today at the site of a proposed memorial wall for the more than 1,000 state residents who died in Vietnam."
Classification Note
Despite his inclusion on the Vietnam Veterans Memorial, above, we do not list him as a loss in Vietnam. The crash location was near Manila, and the ship was not engaged in combat operations at the time.
Gary is one of 23 members of the Class of 1965 on Virtual Memorial Hall.