GARY D. HOPPS, LT, USN
From USNA Virtual Memorial Hall
Gary Douglas Hopps was admitted to the Naval Academy from New York on August 28, 1936 at age 18 years 10 months. He was "deficient in studies and discharged honorably" on February 3, 1956.
Obituary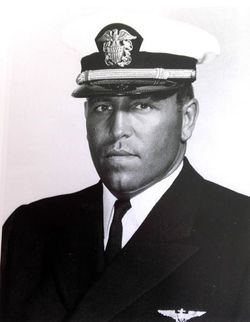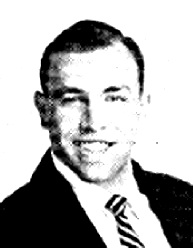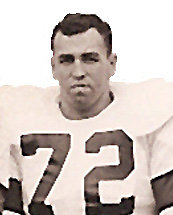 From The Alumni Association, MU CHAPTER (Dennison University, Ohio), Sigma Chi Fraternity:
Lt. Gary Douglas Hopps '60 (Dennison University), USN, entered Sigma Chi's Chapter Eternal when his Douglas Skyraider was shot down by hostile fire over North Vietnam on February 10, 1966. Gary was 29 years old.

Born on August 28, 1936, Gary grew up in the Rochester, New York area with his older brother, Gordon. He graduated from Brighton High School in 1954 and in 1955 from Bullis Prep School, Silver Spring, Maryland. He was honored with an appointment to the U.S. Naval Academy in Annapolis, Maryland. Later, he transferred to Denison, bringing him to Mu Chapter and our brotherhood.

As we knew him, Gary was always deeply committed to two things: playing football and becoming a U.S. Naval officer. A formidable player on the Big Red Football Team, Gary's style—his quiet presence—helped make him universally liked by everyone he met. He was a credit to his university, his teammates, his friends and, above all, his Mu Chapter Brothers.

After college, Gary joined the Navy, became a commissioned officer, and then was accepted into flight school, receiving his wings at NAS Pensacola. He served with honor as a Navy pilot for the next and final four years of his life. In November 1965, Gary was cited for "outstanding valor and professional ability as a pilot" when he was awarded his first Air Medal. His naval career included assignment to Attack Squadron 145 (Swordsmen), attached to the aircraft carrier USS Constellation (CVA 64). Later he moved with this squadron to USS Ranger (CVA 61). It was from the decks of Ranger that Gary took off on that fateful day in February 1966. For bravery in this action and for "heroism or extraordinary achievement while participating in an aerial flight" Gary received, posthumously, the Distinguished Flying Cross. Altogether, his service was honored with four Air Medals, a Purple Heart and the DFC.

Because Gary's remains were not recovered, he was named on many POW/MIA bracelets worn by friends and strangers alike across our country for a number of years until his KIA status was officially confirmed. To this day, the Internet is filled with tributes to Gary from these many bracelet-wearing, caring people.

Gary's name is inscribed on the Vietnam Veterans Memorial in Washington and upon his headstone at Arlington National Cemetery. Additionally, his name appears on the Greater Rochester Vietnam Veterans Memorial, the USS Ranger Memorial, the Brighton Schools Memorial, and the Coral Gables Memorial and on numerous other Vietnam War Memorials across the country.

Gary was a resident of Coral Gables at the time of his death.

We all are lessened by the loss of this life at such an early age and we pay tribute to Gary's ultimate sacrifice in service to the United States.
He has a memory marker in Arlington National Cemetery.
Remembrances
From a email conversation with Captain Mike McGrath, USN (Ret.) '62:
The Hopps entry hit close to home for me. Gary and I were flying our 5th day of combat in North Vietnam that day. We were aboard Ranger. He was with with VA-145, I was with VA-146. I was on my 7th mission in NVN, Gary was about the same. I remember our last conversation just before the mission. The description from his wingman was that he was in a dive attacking trucks. He never pulled out, went straight in. No bailout observed. I described it in my combat-log notes. We surmised that he took a direct AAA hit in the cockpit during the run. I ended up with 179 missions before being rudely interrupted by being shot down. Gary was a great guy. I really liked him.

I find it interesting that Gary's smile in our last conversation is still frozen in my memory. In a flash, he was gone and I never got to talk to him again. Certain shocking memories are interesting. Captain Mike McGrath, USN (Ret.) '62, email, February 18, 2017
Distinguished Flying Cross
Unable to find a citation for the Distinguished Flying Cross listed on his memorial marker.
Memorial Hall Error
Gary's name is not included on the killed in action panel in the front of Memorial Hall.
Related Articles
Charles Schoonover '54 was lost from a different squadron aboard USS Ranger only a few weeks before.
Gary is one of 32 members of the Class of 1959 on Virtual Memorial Hall.