GENE R. GOLLAHON, LT, USN
From USNA Virtual Memorial Hall
Lucky Bag
From the 1961 Lucky Bag:
Loss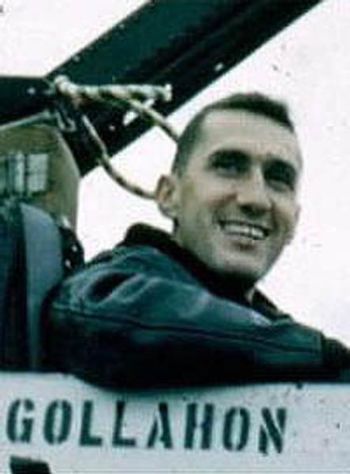 From Find A Grave:
Lieutenant Gollahon was a member of Fighter Squadron 111, Carrier Air Wing 2 aboard the Aircraft Carrier USS MIDWAY (CVA-41). On August 13, 1965, he was the pilot of a Vought Crusader Fighter (F-8D) over Phat Diem, Thanh Hoa Province, North Vietnam when he was hit by enemy fire, crashed and exploded. His remains were recovered on June 26, 2000 and identified on February 5, 2002. His name is inscribed on the Courts of the Missing at the Honolulu Memorial. **

Lieutenant Gene Raymond Gollahon's remains were recovered on June 26, 2000 and identified on February 05, 2002.
Obituary
From the December 1965 issue of Shipmate:
Lt. Gene R. Gollahon, USN, died on 13 Aug. in North Vietnam while on a reconnaissance mission. The aircraft of which he was pilot off USS MIDWAY was hit by hostile fire and subsequently crashed.

Lt. Gollahon, who was born in Cincinnati, Ohio, attended Xavier University in Cincinnati before entering the Naval Academy, from where he was graduated in 1961. As a midshipman he was editor of Reef Points and was in the 12th Company.

Survivors include his widow, Mary Katherine Gollahon, and a daughter, Lori Ann, of 727 South Cypress St., Hammond, La., and his parents, Mr. and Mrs. George Gollahon of 6031 Argus Road, Cincinnati.
Remembrances
Thank you all for your kind wishes and thoughts for my father. His remains were recovered and he is now at rest in Arlington National Cemetery with all of the other heroes, as of 21 June 2002. Once again thanks for all the kind words for my dad. GENE R GOLLAHON JR, AT1(AW) USN Retired, 5/27/14
Happy Valentines Day Dad....................... LORI STOKES, 2/13/01
Family
Gene was married with two children, Lori and Gene. Appears that Gene Jr. was born after Gene's loss.
Distinguished Flying Cross
From Hall of Valor:
The President of the United States of America takes pride in presenting the Distinguished Flying Cross (Posthumously) to Lieutenant Gene Raymond Gollahon (NSN: 0-647574), United States Navy, for heroism and extraordinary achievement while participating in aerial flight on 13 August 1965, while serving with Fighter Squadron ONE HUNDRED ELEVEN (VF-111), embarked in U.S.S. MIDWAY (CVA-41), during a low-level reconnaissance and strike mission near Nam Dinh, North Vietnam. Despite heavy enemy fire, a low cloud cover, poor visibility and rough terrain, Lieutenant Gollahon carried out his mission contributing greatly to the success of his squadron. Sustaining major damage to his aircraft from enemy ground fire, he displayed extraordinary airmanship in maneuvering his craft toward the nearby coast and potential safety. His aircraft was last observed to sustain several explosions and enter uncontrolled flight. Lieutenant Gollahon's courage, determination and inspiring devotion to duty were in keeping with the highest traditions of the United States Naval Service.

General Orders: All Hands (July 1966)
Action Date: August 13, 1965
Service: Navy
Rank: Lieutenant
Company: Fighter Squadron 111 (VF-111)
Division: U.S.S. Midway (CVA-41)
Related Articles
Kenneth O'Dea '61 was also a member of 12th Company.
Gene is one of 23 members of the Class of 1961 on Virtual Memorial Hall.
The "category" links below lead to lists of related Honorees; use them to explore further the service and sacrifice of the alumni in Memorial Hall.