GEOFFREY H. OSBORN, LTJG, USN
From USNA Virtual Memorial Hall
Lucky Bag
From the 1962 Lucky Bag:
Loss
Jeff was lost when his F-8 Crusader crashed on September 24, 1965, immediately following takeoff from USS Bon Homme Richard (CV 31). He was a member of Fighter Squadron (VF) 194, and survived by his widow, Joyce Ann Osborn of Pensacola, FL, and his parents, Mr. and Mrs. Clarence Holmes Osborn of Winter Park, FL.
The ship was operating on Yankee Station and he was departing on a combat mission.
Remembrances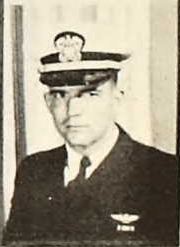 From Wall of Faces:
Geoff was the first friend that I lost in Vietnam. Our parents were good friends in New York and thus he was a childhood friend. He was the first boy to give me a "kiss" in the third grade -- something we laughed about when we were grown. The last time I saw him was walking across the grounds of the US Naval Academy at Annapolis -- standing straight and tall in his uniform. You lose a piece of your childhood when a friend is taken that early in his life.

You are not forgotten, Geoff. Your sacrifice is remembered and appreciated even today. LESLIE WRIGHT DOW, 12/11/01
Related Articles
Thomas Murray '62 was also a member of 1st Company and shares the same Lucky Bag biography page.
Memorials
Jeff is among those names on the Vietnam Veterans Memorial in Washington, D.C.
He has a cenotaph in Honolulu.
Geoffrey is one of 30 members of the Class of 1962 on Virtual Memorial Hall.
The "category" links below lead to lists of related Honorees; use them to explore further the service and sacrifice of the alumni in Memorial Hall.