GEORGE E. CHAMBERLIN, JR., LTCOL, USMC
From USNA Virtual Memorial Hall
George Chamberlin, Jr. '43
Date of birth: October 16, 1920
Date of death: May 5, 1964
Age: 43
George Edward Chamberlin, Jr. was admitted to the Naval Academy from Pennsylvania on July 13, 1939 at age 18 years 9 months. He resigned on February 10, 1940: "Deficient in studies, first term's work. Recommended to be dropped. Permitted to resign."
Lucky Bag
George Edward Chamberlin, Jr., is listed with 195 others below this inscription:
NOT ALL OF US who joined the Class of '43 stayed with us to that one broad stripe. Many fell at the end of plebe year, the casualty list mounted at the end of youngster year and a very few left us when the course was almost run. Reasons were varied and diverse: academic tangles, physical disabilities, civilian leanings.... Many went into civilian occupations, some were drafted, others became flyers and a few volunteered for foreign military service. Some left us early, many stayed for a long while, but none will be forgotten.
Early Career
From Together We Served:
He was a young recruit at Parris Island in July 1940. Apparently, he enlisted in the Corps on 1 July 1940. By 1942, he was at the Marine Corps Barracks, Pearl Harbor, Oahu. He was aboard the USS Quincy in October 1942 and was a Corporal. (This was a WWII cruiser sunk at Savo Island in 1942. By October 1943, he was commissioned as a USMCR 2nd Lt. at Quantico. (He was at Quantico in July 1943 as a corporal, participating in what is listed as the "Thirty First Candidates Class".
Loss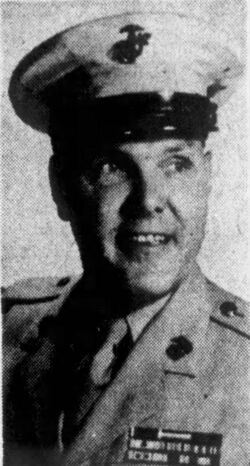 From Wall of Faces:
On Tuesday, May 5, 1964, a de Havilland Canada CV-2B Caribou (#61-2593) from the 61st Aviation Company, U.S. Army Support Command Vietnam, Military Assistance Command, Vietnam (MACV), crashed in a rice paddy shortly after takeoff from Tan Hiep Air Base, Dinh Tuong Province, South Vietnam. The aircraft suffered a failure of the #1 engine, suspected to be from hostile small arms fire which was compounded when the crew turned into the feathered engine in an attempt to return to Tan Hiep airstrip, where they had just picked up several passengers. The aircraft's left wing stalled, rolled inverted, and crashed before a recovery could be completed. The lost crew included pilot CAPT William C. Osborn, co-pilot WO1 George R. Graham, crew chief SP4 Carmine A. Cervellino, and flight engineer SP5 Donald L. Nelson. The lost passengers included LTC George E. Chamberlin Jr., SP4 Clair D. Doty, PFC Carl W. Grimes, MAJ Courtney P. Hollar Jr., SP4 William J. Montgomery, SP5 Frank Thornton Jr., and 5 ARVN passengers.
George was from Coral Gables, Florida. He is buried in Arlington National Cemetery.
George is one of 83 members of the Class of 1943 on Virtual Memorial Hall.