GEORGE F. MORROW, LT, USN
From USNA Virtual Memorial Hall
Birthdate & Date of Loss
| | |
| --- | --- |
| Date of birth: | September 18, 1929 |
| Date of death: | May 12, 1959 |
| Age: | 29 |
Lucky Bag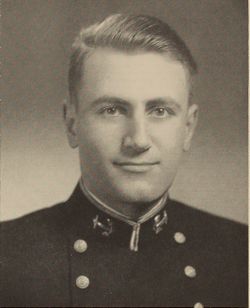 From the 1952 Lucky Bag:
George Frederick Morrow

Kerrville, Texas

It is a bit unusual to see an Army brat in the Academy, but one who has also been a Marine is really a novelty. George came to Navy Tech via Bainbridge and a Fleet Appointment. He spent most of his recreation time at soccer and wrestling, and also contributed his share to the Class Crest and Ring Committee. By no means a bucket, he nevertheless had rough going in plebe Steam. He earned the nickname "Snapper" during plebe year by becoming champion eater of the twenty-sixth company. George seemed to favor the Marines upon graduation and it wouldn't surprise some of his friends if he saw some more Far East duty.
Loss
From Find A Grave:
CRASH OF NAVY PLANE KILLS 3.

Three Navy men aboard a twin engine S2F Tracker were killed when the plane crashed and burned about 3:15 p.m. yesterday while approaching a runway at Cabaniss Field. The plane crashed on the farm of MRS. S. A. SIMELK. Two years ago a single-engine plane crashed at almost the same spot.

Dead are:


Lt. GEORGE F. MORROW, 29, an instructor in Advanced Training Unit 611.
Ensign ERWIN M. NUCKOLS, 23, a student pilot.
Naval Cadet GARY R. KEASLING, 22.

NUCKOLS and KEASLING were making familiarization flights. It is not known which man was flying the plane.

MRS. JAMES DODSON, of Rt. 3, said she was driving down Chapman Ranch Road toward town, when she saw the plane flying low over a field. Then a wing dipped, the plane struck and burst into flames.

A Navy enlisted man witnessed the crash. He said the plane appeared to be making a normal approach except that it was too low.

MORROW'S wife, SALLIE, and a son, DIXON, 2, live at 4505 Totten. His parents, Lt. Col. and Mrs. George L. Morrow, live in Kerrville. Corpus Christi Times Texas 1959-05-13
He is buried in Texas.