GEORGE M. SKINNER, 2LT, USMCR
From USNA Virtual Memorial Hall
George Marion Skinner was admitted to the Naval Academy from Princeton, Illinois on July 18, 1941 at age 18 years 2 months. He resigned on January 14, 1943 with the note "Deficient in studies. Recommended to be dropped. Permitted to resign."
Lucky Bag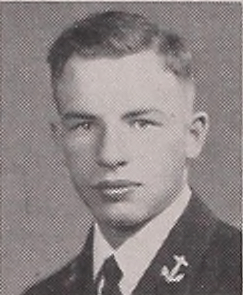 George Marion Skinner is listed among those classmates who did not graduate in June 1944 with the Class of 1945.
Loss
From Naval-History.net:
SKINNER, George M., 2nd Lt., USMCR. Father, Mr. Marion L. Skinner, 804 So. Euclid Ave., Princeton, Ill (na) + SKINNER, George Marion, 26127, HqCo, 3rdBn, 9thMar, 3rdMarDiv, FMF, Marianas Is, July 21, 1944, killed in action (mc)
Unable to find details, but George was killed during the invasion of Guam.
He was survived by his parents, a sister, and a brother. is buried in Illinois.
George is one of 59 members of the Class of 1945 on Virtual Memorial Hall.