GLENN D. ZIEGLER, LT, USN
From USNA Virtual Memorial Hall
Lucky Bag
From the 1981 Lucky Bag: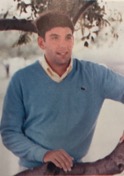 Loss
From Daily News of Bowling Green, Kentucky on April 3, 1985:
NORFOLK, Va. (AP) — Aircraft from the carrier Nimitz along with Air Force and Army units searched a large area of jungle and mountains in Panama for two Navy fliers whose A-6 Intruder jet disappeared. The men were identified as Lt. Cmdr. Derek Holmquist, 35, of McLean, the pilot, and Lt. Glenn Ziegler, 25, of Upper Darby, Pa., the bombardier-navigator. Holmquist and Ziegler, missing since Monday, are assigned to Attack Squadron 35 based at Oceana Naval Air Station.
As reported on the Aviation Safety Network site of the Flight Safety Foundation:
A-6E Intruder BuNo. 161673/AJ-503 of VA-35, US Navy, crashed near coast of Venezuela during training mission Apr 1, 1985 North West of Santiago, Panama while operating from USS Nimitz (CVN-68). Plane and its two crew has never been found.

From 28 March– to 12 Apr 1985, due to heightened tensions resulting from fighting against Marxist rebels in Central America, the USS Nimitz steamed off the eastern coast of that isthmus for "U.S. Naval Presence Operations."
Glenn has a memorial marker at Arlington National Cemetery.
Related Articles
Derek Holmquist '73 was also lost in this crash.
Glenn is one of 14 members of the Class of 1981 on Virtual Memorial Hall.
The "category" links below lead to lists of related Honorees; use them to explore further the service and sacrifice of the alumni in Memorial Hall.