HALVOR M. EKEREN, CAPT, USAF
From USNA Virtual Memorial Hall
Lucky Bag
From the 1951 Lucky Bag:
Loss
Hal was lost when his "jet plane exploded over Las Vegas, Nev." on April 8, 1959 He was survived by his wife, Nancy, their three children, and now at least three grandchildren. He is buried in Arlington National Cemetery.
From the June-July 1959 issue of Shipmate:
It is with deep regret that I report the death of Capt. HALVOR MARTIN EKEREN, USAF. Hal, as he was known to his classmates, was killed at Nellis Air Force Base while on a trip from Edwards Air Force Base, Calif., in an F-106. Hal was assigned to the flight section of Flight Test Operations at Edwards, where he lived with his wife Nancy and their children. I join the entire class in expressing our heartfelt sympathy to Hal's family. During his career in the Air Force, Hal continued to display the qualities which earned this description in the 1951 Lucky Bag: ". . . friendly, a hard worker, conscientious and practical."
Project Mercury
Hal was one of 32 candidates for NASA's Project Mercury and his life is discussed at length in "Selecting the Mercury Seven: The Search for America's First Astronauts" by Colin Burgess. It's believed that Hal was originally in a smaller field of 18, but he removed his name (with the possibility of later consideration) before that occurred. He was lost the day before the seven Mercury astronauts were announced.
Memorials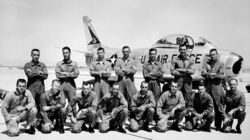 In 1959 the USAF Test Pilot School introduced an award in Hal's name, presented to an outstanding pilot in each class.
Halvor is one of 48 members of the Class of 1951 on Virtual Memorial Hall.