HALVOR M. EKEREN, CAPT, USAF
From USNA Virtual Memorial Hall
Birthdate & Date of Loss
| | |
| --- | --- |
| Date of birth: | May 23, 1929 |
| Date of death: | April 8, 1959 |
| Age: | 29 |
Lucky Bag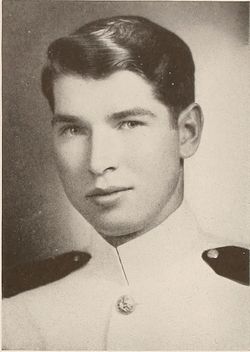 From the 1951 Lucky Bag:
Halvor Martin Ekeren

Thief River Falls, Minnesota

A staunch defender of the mid-western way of life. . . known as "Hal" to friends . . . recognized throughout the Halls of Bancroft by his smile and distinctive laugh . . . born at Devil's Lake, North Dakota in 1929 ... a living example of the fact that everything that emerged from the depression was not bad (?) . . . graduated from Lincoln High School in Thief River Falls (better known as Crook Creek), Minnesota . . . Motto: "Things can't be as tough tomorrow as they were today" . . . Hobby as a civilian was keeping his jalopy running; hobby now is meeting people and seeing some of the world . . . ambition: to retire with a family on a small farm . . . friendly, a hard worker, conscientious and practical.
Loss
Hal was lost when his "jet plane exploded over Las Vegas, Nev." on April 8, 1959 He was survived by his wife, Nancy, their three children, and now at least three grandchildren. He is buried in Arlington National Cemetery.
Project Mercury
Hal was one of 32 candidates for NASA's Project Mercury and his life is discussed at length in "Selecting the Mercury Seven: The Search for America's First Astronauts" by Colin Burgess. It's believed that Hal was originally in a smaller field of 18, but he removed his name (with the possibility of later consideration) before that occurred. He was lost the day before the seven Mercury astronauts were announced.
Memorials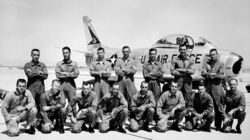 In 1959 the USAF Test Pilot School introduced an award in Hal's name, presented to an outstanding pilot in each class.