HAROLD E. FISHER, LTJG, USN
From USNA Virtual Memorial Hall
Birthdate & Date of Loss
| | |
| --- | --- |
| Date of birth: | unknown |
| Date of death: | November 13, 1942 |
| Age: | unknown |
Lucky Bag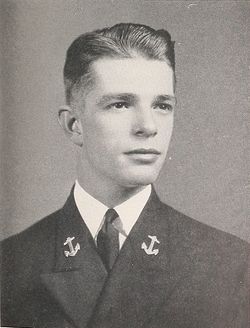 From the 1942 Lucky Bag:
HAROLD EDWARD FISHER

Bud

Coming from a year at Ohio State, Bud brought with him all the pep and drive that have since characterized him. Bud has done well at the Academy in more ways than one. For three winter seasons his diving performances have been watched by appreciative audiences. Again, his academic standing shows that he has succeeded in his aims for his number is stated in tens—not hundreds.

Soccer 4, 3, 2, 1, aNf; Swimming 4,3,2, 1, sNt*; Battalion Track; Stars 4, 3, 2; 2/c P.O.; 2 Stripes.
The Class of 1942 graduated on December 19, 1941, less than two weeks after the United States entered World War II. The class had previously been scheduled to graduate in February 1942.
Loss
Harold was lost when USS Juneau (CL 52) was sunk by a Japanese submarine on November 13, 1942 during the Naval Battle of Guadalcanal.