HENRY C. WHITE, LT, USN
From USNA Virtual Memorial Hall
Birthdate & Date of Loss
| | |
| --- | --- |
| Date of birth: | March 13, 1925 |
| Date of death: | July 6, 1957 |
| Age: | 32 |
Lucky Bag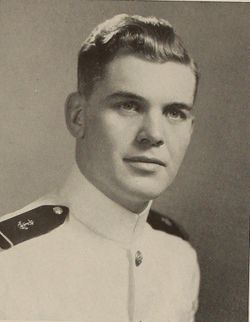 From the 1949 Lucky Bag:
Henry C. White

BATTLE CREEK, MICHIGAN

Hank, the personification of urbanity and Battle Creek's gift to the feminine world, came to the Academy after sixteen months as a V-12er ("Victory in twelve years or we fight") at Ohio Wesleyan University. While there he pledged Sigma Chi fraternity and enjoyed gridiron prominence; injuries kept him out of football here but failed to dim his enthusiasm for the sport. Mention should be made in passing of his prowess with the foaming liquid, for few could contest his speed at "pouring them down," and some have found it fatal to try. He was always the life of the party and wherever you find him you were sure to find a party or at least a bull session. Hank's inate love of flying should make him a find for Naval Aviation, and his ready smile and humorous spirit will take him far.
Loss
Henry was lost during a training flight of his A-3B Intruder on July 7, 1957. From A-3 Skywarrior:
From newspaper articles sent by AT2 Seaman's daughter, 3/1/2012: "The plane was participating in night training exercises and at the time was practicing mirror landings which the Navy explains consists of field carrier approach work."
He was a member of Heavy Attack Squadron (VAH) 9. Also lost in the crash were CDR Charles W Carman, AQ1 Joseph J Monaco, and AT2 Eugene O Seaman.
He is buried in the Barrancas National Cemetery.