HENRY R. HAMNER, LT, USN
From USNA Virtual Memorial Hall
Date of birth: March 13, 1922
Date of death: April 6, 1945
Age: 23
Lucky Bag
From the 1943 Lucky Bag:
Obituary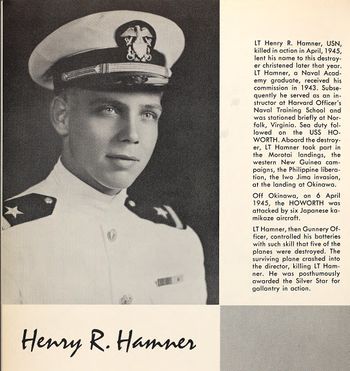 From Wikipedia's entry:
Henry Rawlings Hamner was born 13 March 1922 in London, England. Appointed to the United States Naval Academy from Virginia, he graduated and gained his commission in June 1942. Hamner served to fit out and commission several new ships during the war, in addition to serving in the 12th Naval District and at Norfolk, Va. He was appointed lieutenant in July 1944.
Eight other men were also lost aboard USS Howorth (DD 592) on April 6, 1945 from that kamikaze attack.
He is buried in Arlington National Cemetery; his wife was listed as next of kin.
Namesake
In November 1945, the destroyer USS Hamner (DD 718) was named in his honor.
Related Articles
Horace Bayless '45 was also lost in this attack.
Henry is one of 84 members of the Class of 1943 on Virtual Memorial Hall.
The "category" links below lead to lists of related Honorees; use them to explore further the service and sacrifice of the alumni in Memorial Hall.