HOUSTON C. HAYWARD, LTJG, USN
From USNA Virtual Memorial Hall
Birthdate & Date of Loss
| | |
| --- | --- |
| Date of birth: | May 1, 1928 |
| Date of death: | January 31, 1953 |
| Age: | 24 |
Lucky Bag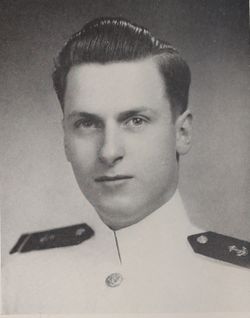 From the 1950 Lucky Bag:
HOUSTON CONANT HAYWARD

Evanston, Illinois

Hugh left the Navy's V-5 program to enter the Academy, but he plans to return after graduation. Music in various shapes and forms captured most of his spare time. Hugh did a splendid job organizing the Twelve-Fifties, a triple quartet which performed frequently about the Academy. Tuesday evenings and Sunday mornings found him in the Chapel Choir loft; and when not otherwise occupied, he would break out his guitar or sweet potato. Star boat sailing kept him from the ranks of the Radiator Squad. He likes the water and will probably see a lot more of it in the years to come.
Loss
From USNA 1950:
Hugh was killed in a mid-air collision with a squadron mate of VF-61 in the Mediterranean Sea.
He was lost on January 31, 1953 and is buried in Mississippi.