HUBERT W. WAGER, LTJG, USN
From USNA Virtual Memorial Hall
Birthdate & Date of Loss
| | |
| --- | --- |
| Date of birth: | October 1, 1917 |
| Date of death: | November 3, 1942 |
| Age: | 25 |
Lucky Bag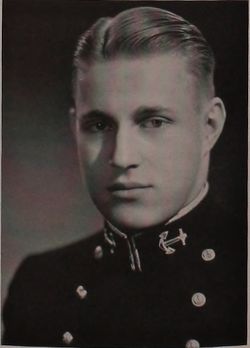 From the 1941 Lucky Bag:
HUBERT WARREN WAGER

Titusville, Pa.

A slim powerful figure poised on the edge of the swimming pool waiting for the bark of the starter's gun . . . this is the picture of Hube that most of us will retain in our minds. Swimming has long held the pre-eminent position in Hube's extra-curricular activities and his efforts have been rewarded with noteworthy success. The allegorical phrase, "still waters run deepest," is perhaps tlie most apt description of Hube. Reserved in manner and quiet in speech as he may appear to a casual acquaintance his warm-hearted spontaneity and cheerfulness are well-known to his many friends. The finer things in life interest Hube. Extensive reading of good literature, coupled with an inherent love of music, result in his having acquired an amazing store of cultural knowledge. The plebe looking for the answer to a perplexing question of the arts will sooner or later be referred to the best source of such information—Hube.

Swimming, 4, 3, 2, 1; sNt*, Captain 1; Boat Club, 3, 2, 1; Reception Committee, 2, 1; Newman Club, 4, 3, 2, 1.
The Class of 1941 was the first of the wartime-accelerated classes, graduating in February 1941.
Loss
Hubert was lost when USS Monssen (DD 436) was sunk on November 13, 1942 at the Naval Battle of Guadalcanal.
He has a memory marker in Pennsylvania. His father was listed as next of kin.