JACKSON W. PARKER, ENS, USN
From USNA Virtual Memorial Hall
Birthdate & Date of Loss
| | |
| --- | --- |
| Date of birth: | unknown |
| Date of death: | October 26, 1942 |
| Age: | unknown |
Lucky Bag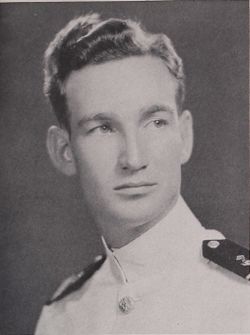 From the 1943 Lucky Bag:
JACKSON WELCH PARKER

Bonita, Mississippi

After hearing Jack sing in the shower, one could easily guess that he came from the deepest South. From the land of the magnolias, he came to the academy to become a naval officer instead of a brick manufacturer. During those numerous free periods, you could always find Jack somewhere making a five bid out of a possible four. His favorite pastimes were bridge, handball, swimming, and reading. There was always time in his schedule for plenty of fun and a good time. Jack is constant and sure in his duties. In the race with the Academic departments, he barely missed obtaining those coveted stars.
The Class of 1943 was graduated in June 1942 due to World War II. The entirety of 2nd class (junior) year was removed from the curriculum.
Loss
Jack was one of 57 men lost aboard USS Smith (DD 378) on October 26, 1942 when the ship was heavily damaged by attacking aircraft while screening USS Enterprise (CV 6) and USS Hornet (CV 8).
The ship was awarded the Presidential Unit Citation for her action that day.