JAMES C. NORTON, 1LT, USMC
From USNA Virtual Memorial Hall
Lucky Bag
From the 1957 Lucky Bag:
Loss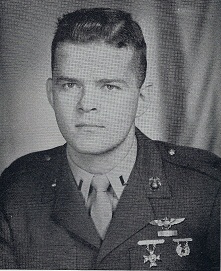 From Find A Grave:
Commissioned a Second Lieutenant in the United States Marine Corps after graduating from the United States Naval Academy (1957), Jimmy headed off to 'The Basic School' at Quantico, Virginia. While there, Jimmy met and, in August 1957, married Maudine Adcock, a fellow Texan. Jimmy had every intention of becoming an Infantry Officer; however, as he continued on in the program, he became increasingly enamored with the Aviation option. Accordingly, after completing the ten-month course of instruction at The Basic School in June 1958, Jimmy received Orders taking him to Naval Air Station Pensacola to fulfill his new dream of becoming a Marine Aviator.

After successful completion of flight training at Pensacola, Florida, Jimmy then continued further training at Naval Air Station Chase Field in Beeville, Texas. While there, Jimmy's son, Michael, was born in October of 1959. After completion of flight training at Beeville and upon earning his 'Wings of Gold,' Jimmy received orders to MCAS Cherry Point.

At MCAS Cherry Point, North Carolina 1st Lt. Norton underwent specialized flight training and qualification as a Marine Corps Fighter Pilot. 1st Lt. Norton was assigned to VMF(AW)-531, The Gray Ghost Squadron, when an unfortunate and tragic aircraft accident took his life on October 4th, 1960

The reasons why 1st Lt. Norton's F4D-1 SkyRay Fighter crashed into the woods on the Carteret-Craven County boundary are still, to this day, unknown. Station authorities at MCAS Cherry Point stated that 1st Lt. Norton had reported no difficulty as he radioed the control tower at 1410 hrs. requesting permission to enter the landing pattern. His aircraft was one of four F4D-1 SkyRay Fighters returning from a routine ordinance training mission at Onslow Beach (Marine Corps Base Camp Lejeune), North Carolina.

When Lieutenant Norton's aircraft was approximately 5 miles southeast of MCAS Cherry Point it suddenly, and abruptly, broke away from the formation and descended, level-winged and in a perfect glide path, into the Croatan National Forest. With no radar image and no further contact from Lt. Norton, a Rescue Helicopter was dispatched to search the surrounding area. Two hours later, at approx. 1610 hrs. the Rescue Helicopter reported finding the wreckage of Lieutenant Norton's aircraft some 4 miles south of MCAS Cherry Point and approximately 300 yards from Hwy 70. It was determined that Lieutenant Norton died instantaneously from the injuries sustained in this accident.
Related Articles
Herb Doby '57 was also part of the 19th Company Leadership Fall set. John Peace, III '57 was also a member of 19th Company.
James is one of 38 members of the Class of 1957 on Virtual Memorial Hall.