JAMES L. FEENEY, LT, USN
From USNA Virtual Memorial Hall
Date of birth: November 22, 1946
Date of death: July 11, 1974
Age: 27
Lucky Bag
From the 1969 Lucky Bag:
Shipmate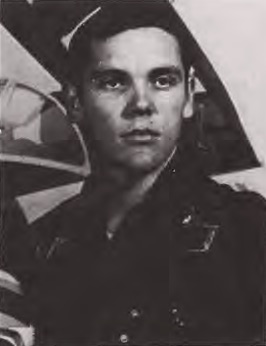 From the November 1974 issue of Shipmate:
Lt. James Leo Feeney, USN, died on 11 July 1974 at sea off the coast of Japan while piloting an A-7 jet aircraft attached to Attack Squadron 93 in USS Midway. In addition to the memorial service conducted in Midway, a memorial mass was held in the Ft. Myer Chapel on 29 July 1974.

A graduate of Salpointe High School at Tucson, Ariz., Lt. Feeney also attended the School of Mines and Technology, Rapid City, S.D., prior to graduating from the Naval Academy with the class of 1969. He received an M.S. degree in aeronautical engineering at the Naval Postgraduate School in 1973, subsequent to designation as a naval aviator in 1971. Prior to assignment to Attack Squadron 93, Lt. Feeney had served in Attack Squadron 125 at Lemoore, Cal.

The Lieutenant James L. Feeney Memorial Fund has been established at Citizens State Bank, Enderlin, ND 58027 for the education of his children.

Lt. Feeney is survived by his widow, Mrs. James L. Feeney, 373 Wye Court, Glen Burnie, MD 21061; by a son, Sean P. and a daughter, Kenna Dorann; by his parents. Col. John W . Feeney, USAF (Ret.) and Mrs. Feeney; a sister, Mrs. Nicholas Grammas; and a brother, Timothy Michael Feeney.
James has a memory marker in Arlington National Cemetery.
Related Articles
David Buell '69 was also in 32nd Company.
James is one of 17 members of the Class of 1969 on Virtual Memorial Hall.