JOHN A. KLOTER, LTJG, USN
From USNA Virtual Memorial Hall
Birthdate & Date of Loss
| | |
| --- | --- |
| Date of birth: | unknown |
| Date of death: | November 13, 1942 |
| Age: | unknown |
Lucky Bag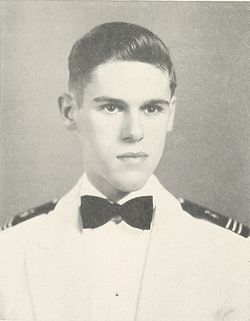 From the 1942 Lucky Bag:
JOHN ALPHONSE KLOTER

Blackie

From "Noo York" John brought his own pronunciation of "battle" and "bottle" as well as a love for music and skill for tennis. Academics never bothered him and he read every article in the newspaper before opening a book. It was the Times or stars for John—he chose the Times. As for the fair sex, with John it was not only six-love on the tennis court.

Tennis 4, 3, 2, tNt; Glee Club 4, 3, 2; Choir 4, 3, 2; Musical Clubs Director; 1 Stripe.
The Class of 1942 graduated on December 19, 1941, less than two weeks after the United States entered World War II. The class had previously been scheduled to graduate in February 1942.
Loss
John was lost when USS Juneau (CL 52) was sunk by a Japanese submarine on November 13, 1942 during the Naval Battle of Guadalcanal.
His father was listed as next of kin.