JOHN B. WEEKS, LTJG, USN
From USNA Virtual Memorial Hall
Date of birth: November 8, 1912
Date of death: April 6, 1939
Age: 26
Lucky Bag
From the 1933 Lucky Bag:
Biography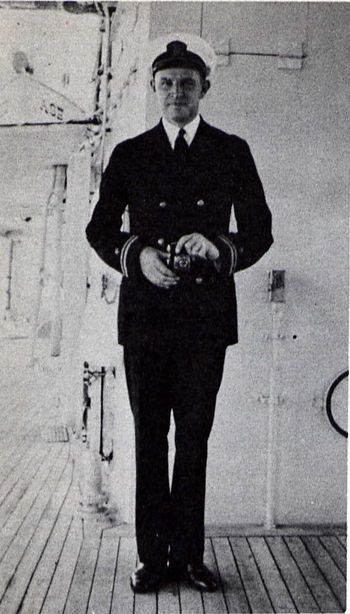 From the 1953 edition of the book "Double Three Roundup," published by the class of 1933:
We remember Bud as a good sportsman, always willing to help friends, who was deeply missed when he died of Hodgkin's Disease at the Brooklyn Naval Hospital, April 6, 1939, on return from a shakedown cruise to Africa on the BOISE. He is buried in Arlington Cemetery.

Bud met Jane Ward from Berkeley, California, while he was attending Optical School at Mare Island in 1934, and married her at Cathay Mansions in Shanghai in 1936 while attached to the ASHEVILLE. The ship won the engineering 'E' while he was Engineering Officer. There was a letter of commendation sent to Washington after he completely rebuilt the steam lines of the ship at sea, by-passing a breakdown and thereby saving a long towing job.

Jane and two other wives had an experience that most Navy wives have never had. In December 1937, after the Jap bombing of Shanghai, Admiral Yarnell notified the ASHEVILLE that wives might be taken aboard as refugees and so they accompanied their husbands on board the ASHEVILLE from Hong Kong to Manila.

Bud is survived by Jane, and by his mother and father who are living on the farm that Bud bought on the Olympic Peninsula near Seattle in 1935. Jane married again in 1941; she is now Mrs. W. Fred Nicholson of 539 College Street, Bellaire, Texas.
From researcher Kathy Franz:
Born in Maine, John was one of the youngest boys at age 16 to enter the Naval Academy in 1929. He was appointed by Congressman L. H. Watres after graduating in June as valedictorian from the Keystone Academy in Factoryville, Pennsylvania.

His father Irving, a professor at Keystone Academy, was an accomplished singer, musician, and in 1929, was head of the science department. His mother Grace was also an accomplished musician, and his sisters were Mary and Grace.
He is buried in Arlington National Cemetery.
Career
John began his career aboard USS Astoria (CA 34); he is listed as a member of that ship's wardroom in the 1934 and 1935 Navy Directories. In 1936 he served aboard USS Asheville (PG 21), a gunboat in China; in 1937 he was a LTjg and listed as the ship's engineering officer.
John is one of 38 members of the Class of 1933 on Virtual Memorial Hall.
The "category" links below lead to lists of related Honorees; use them to explore further the service and sacrifice of the alumni in Memorial Hall.