JOHN C. THOMPSON, JR., LT, USN
From USNA Virtual Memorial Hall
Birthdate & Date of Loss
| | |
| --- | --- |
| Date of birth: | May 6, 1923 |
| Date of death: | May 22, 1952 |
| Age: | 29 |
Lucky Bag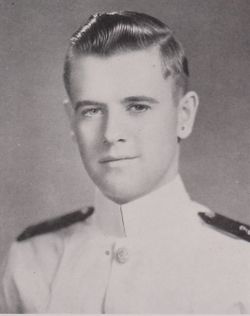 From the 1946 Lucky Bag:
John Charles Thompson, Jr.

Norfolk, Virginia

Up the Chesapeake a few miles, Johnny transferred his residence from Norfolk to the Naval Academy intent on a Navy career. He was onto the system in short order and could always be counted upon to take advantage of any of the few privileges extended; he could be found in town most any liberty day. The winter tenns found John making good in the fencing loft, from which he sent many a man with saber bruises. A happy smile and gay disposition have won Johnny many friends and I can safely say, "He'll get along."
The Class of 1946 was graduated in June 1945 due to World War II. The entirety of 2nd class (junior) year was removed from the curriculum.
Life & Loss
Unable to find any information about John's life or loss. He is buried in Arlington National Cemetery.
Related Articles
Jackson Robinson '46 was also on the fencing team.
Percival Fenton, Jr. '46 and Philip Allen '46 were also members of 12th Company.