JOHN E. AVISE, FO, RCAF
From USNA Virtual Memorial Hall
Date of birth: 1912
Date of death: October 17, 1942
Age: ~29
Lucky Bag
From the 1934 Lucky Bag:
Loss
John was lost on or about October 17, 1942 while ferrying a Hurricane plane to a base in North Africa. He has a memory marker in Iowa.
Unable to find exact date of birth; the Annual Register of the United States Naval Academy 1931-1932 shows he was admitted on June 16, 1930 at age 17 years 8 months. He was born in late 1912.
Career

IA Gen Web has an extensive series of reports on John's career:
John Avise Passes Entry Examinations To U. S. Naval Academy

Results of entry examinations for the United States Naval Academy of Annapolis receive in Mason City show that John Avise, now a student in the Junior college, received the highest ranking in the examinations taken here. His best grade was received in mathematics, being ranked 100 per cent in geometry. He received his appointment thru Representative G. N. Haugen. The Globe Gazette, Mason City, Iowa, Thursday, February 13, 1930, Page 22
John E. Avise Passes Entrance Examination To Annapolis Academy

John E. Avise, son of Mr. and Mrs. Dennis E. Avise, local barber who resides at 710 North Federal, was among the seven boys nominated for appointment to the Naval Academy at Annapolis who have passed their entrance examinations, according to information filed by the Navy Department with the Iowa members of the house Friday.

He is in his first year of Junior college and won the Legion Scholarship for Junior college this year. The Globe Gazette, Mason City, Iowa, Tuesday, May 17, 1930, Page 8
Bits About 'Em

Mr. and Mrs. D. E. Avise and son, Dean, 710 North Federal avenue, have left for Annapolis, Md., to attend graduation exercises at the U. S. Naval academy. John Avise, son of Mr. and Mrs. Avise, is a member of the class which will be graduated Thursday morning. Mrs. Wiley Ransom, 218 Fourth street northwest, accompanied them. The Globe Gazette, Mason City, Iowa, Monday, May 28, 1934, Page 6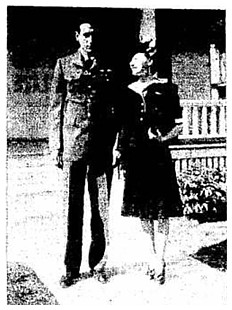 Avise a Canadian Pilot

Mason Cityan Now on Duty With Air Force in England

Pilot Officer Avise Leaves With Canadian Convoy for Service

Above, Mr. and Mrs. John Avise are shown as they visited at the home of Mr. Avise's parents, Mr. and Mrs. D. E. Avise, of Mason City. Pilot Officer Advise joined the Royal Canadian Air Force in August of last year and recently completed his training to leave for active duty in England. He completed his training course of the air corps in a period of nine months.

Pilot Officer John Avise, 28, formerly of Mason City, is now on active duty with the Royal Canadian Air Force "somewhere in England." On the Fourth of July his wife received a cable from Advise notifying her that he was stationed for a time at Bournemuth, England.

Advise is the son of Mr. and Mrs. D. E. Avise, 10 Seventh street northwest. He was graduated from Mason City high school and went one year to junior college here. In 1934 he was graduated from the United States Naval Academy at Annapolis.

Advise was a public accountant in San Francisco and in 1935 was married to Louise Leach, formerly of Mason City.

While on vacation in Vancouver, B. C., last summer, Avise decided to join the R. C. A. F., according to his mother. He had done some flying but had not received his pilot's license. The R. C. A. F. wasted no time in calling Avise and on Aug. 19, within two weeks after he enlisted, he received a call at his home in San Francisco.

All of his training for the air corps was done in Ontario near Toronto. Within nine months he received his commission as pilot officer from the school at Dunnville, Ont.

After graduation he and his wife came to Mason City for a short visit and then Avise left for Halifax, Nova Scotia. He departed from there in a large convoy for England.

Enlistment in the R.C.A.F. is for a "year of the duration of the war." United States citizens do not lose their citizenship by joining the R.C.A.F. according to Mrs. D. C. Avise. Allegiance is just to the air force and not to the king of England.

At the time Avise was here he estimated that one-fifth of all the pilots taking the flying course were United States citizens. The Globe Gazette, Mason City, Iowa, Tuesday, July 08, 1941, Page 4
Again Flying With R.A.F. in Egypt After Illness

Pilot Officer John Avise of the Royal Air Force was believed to be back in action with the R.A.F. in Egypt after recovering from pneumonia, while stationed in that near eastern bastion. Avise, son of Mr. and Mrs. D. E. Avise, 10 Seventh street northwest, was transferred from England to Alexandria, Egypt, in January, and more recently has been located near Cairo. Formerly pilot of one of the British Spitfires, he has now indicated that he may be flying a Tomahawk, another of the prize British pursuit planes. The last letter received by his parents was dated April 1 and reached Mason City in 25 days. The Globe Gazette, Mason City, Iowa, Wednesday, April 29, 1942, Page 819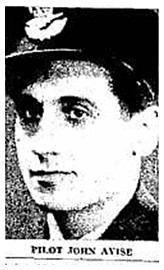 Pilot John Avise Serves With RAF in Middle East

Flying Officer Is Pilot Of Pursuit Planes in Egypt

Serving on the middle eastern battle front is Pilot Officer John Avise of the royal air force, stationed in Egypt, according to last reports. He is believed to have taken part in the fierce Libyan battle.

Avise, son of Mr. and Mrs. D. E. Avise, 10 Seventh street northwest, found his way into the RAF by way of the Canadian air force, which he joined in August, 1939. He received his commission as pilot officer after nine months training in Ontario and left for England in a large convoy.

In December, 1941, Avise was sent to Egypt. First he was based at Alexandria and later at Cairo.

In the middle eastern activity, Avise has been piloting the British Spitfires and Tomahawks, prize pursuit planes which carried him into the thick of the action.

Another son of Mr. and Mrs. Avise, Maj. Dean Advise, is stationed in Washington, D. C., army hospital division. The Globe Gazette, Mason City, Iowa, Friday, October 30, 1942, Page 25
Pilot Officer John Avise Is Reported Missing Overseas

Former Local Man Fighter Pilot With Canadian Air Force

Pilot Officer John Avise, son of Mrs. D. E. Avise, 10 Seventh street northwest, a fighter pilot with the Royal Canadian air force, has been reported missing in air operations overseas by officials of the R.C.A.F. in Ottawa, Canada.

Word that Avise was missing was received some time ago, but officials asked that the news be withheld for five weeks, lest the information might in some way hinder his being found.

Avise was graduated from Mason City high school and attended junior college here. In 1934 he was graduated from the U.S. Naval Academy at Annapolis. Before joining the R.C.A.F. he was a public accountant in San Francisco, where his wife, the former Louise Leach, now lives.

Nine months after joining the Canadian air force in 1939, Avise received his commission as pilot officer from the school at Dunnville, Ont., where he received all his training.

Soon after graduation he left Halifax, Nova Scotia, in a large convoy for England, where he was stationed until he was transferred to Egypt. In letters home, Avise told of piloting British Spitfires and Tomahawks. The Globe Gazette, Mason City, Iowa, Saturday, November 28, 1942, Page 1
Announce Death of John Avise

Mrs. John E. Avise, 212 Fourth street northwest, and Mrs. D. E. Avise, 10 Seventh street northwest, wife and mother respectively, of Flying Officer John Ellsworth Avise of the Royal Canadian air force, have been notified by the casualties officer at Ottawa, Ont., that "for official purpose, he is presumed to have died Oct. 17, 1942."

Flying Officer Avise was stationed at the RAF base at Aboutkir, just west of Alexandria in North Africa and took off at 11:20 a. m. on Oct. 17 to deliver a Hurricane plane to Wadi Natrun, about 100 miles away, according to his squadron officer.

Another plane took off a short time afterward to pick him up and return him to his base but it reached Wadi Natrun without seeing him or his plane and he had not arrived. Search was begun immediately and continued for many days but no trace ever was found of him or his plane.

The allied push westward from El Alamein began on Oct. 23.

A brother, Major Reginald Dean Avise, is with the army postal division in London, England. The Globe Gazette, Mason City, Iowa, Monday, June 28, 1943, Page 5