JOHN E. BOYER, LCDR, USN
From USNA Virtual Memorial Hall
Date of birth: November 23, 1937
Date of death: March 15, 1973
Age: 35
Lucky Bag
From the 1961 Lucky Bag:
Loss
John was lost when his P-3 Orion, (Bu. No. 152749), crashed about 40 miles off the Maine coast on May 15, 1973. The aircraft was operating out of NAS Brunswick; al five crewmen aboard were killed. John has a memory marker in Pennsylvania.
Shipmate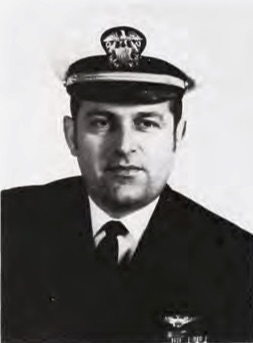 From the July-August 1973 issue of Shipmate:
LCdr. John Edward Boyer, USN, died in the crash of a P-3B aircraft flying on a routine training flight 30 miles offshore of NAS Brunswick, Me., on 15 March. He was buried in Brunswick, Me., on 18 March.

A native of Lewistown, Pa., he was a 1961 graduate of the Naval Academy. In April 1963 he was designated naval aviator and reported to VP-11. He was assigned instructor pilot in the SP-2 aircraft with VP-30, Jacksonville, Fla., from June 1966 to January 1967. His next assignment involved duty as a project test pilot at the Weapons Systems Test Facility, NAS Patuxent River. During that tour he experienced extensive combat flying in the P-2 Neptunes of VAH-21 while involved in the development of Project TRIM avionics equipment.

From May to September 1971 Cdr. Boyer received transition training in the P-3 Orion at VP-30, NAS Patuxent River. He then joined VP-10 at NAS Brunswick, Me. On 16 March 1972 he was designated a Patrol Plane Commander in the P-3 aircraft. His assignments in VP-10 included Training Officer, NATOPS Officer, and Commander of Combat Aircrew Six. His most recent deployments involved operational missions out of NAS Bermuda and NS Rota, Spain.

Cdr. Boyer was authorized to wear four Air Medals, a Meritorious Unit Commendation, the National Defense Service Medal, and the Republic of Vietnam Campaign and Vietnam Service Medals.

Surviving are his widow, Judith Ann, RFD #2, Box 84A, Brunswick, ME 04011; his daughter, Courtnay Kearns Boyer; and his parents, Mr. and Mrs. John S. Boyer of Lewistown, Pa.
Related Articles
John Dickey, Jr. '61 was also a member of 1st Company.
John is one of 23 members of the Class of 1961 on Virtual Memorial Hall.
The "category" links below lead to lists of related Honorees; use them to explore further the service and sacrifice of the alumni in Memorial Hall.