JOHN J. CHAMBERS, CDR, USN
From USNA Virtual Memorial Hall
Birthdate & Date of Loss
| | |
| --- | --- |
| Date of birth: | March 28, 1928 |
| Date of death: | August 25, 1969 |
| Age: | 41 |
Lucky Bag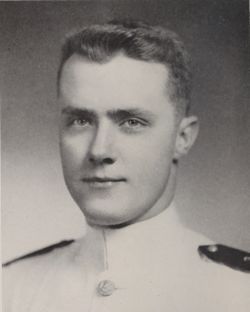 From the 1950 Lucky Bag:
JOHN JOSEPH CHAMBERS

Philadelphia, Pennsylvania

J.J. came to the Naval Academy after a year's preparation at Villanova College where he was an engineering student. His time must have been well spent as our academics didn't seem to slow him down too much. Many a study hour he shot with a bull-session or reading a novel, much to the consternation of his roommates. J.J. liked to sing and, although he was no Crosby, he did fairly well. All his athletic endeavors centered around the Crew Squad, and most afternoons he was at Hubbard Hall working out. He seems to have taken a liking to the air, and the fleet will probably get another good fly-boy when he graduates.
Loss
From USNA 1950:
Highly decorated in the Korean and Viet Nam wars, Commander Chambers was to take command of Attack Carrier Air Wing 9 at Lemoore, CA, when killed at sea flying an F-4 phantom jet fighter off San Diego, CA.
He has a memory marker in Arlington National Cemetery.
Distinguished Flying Cross & Bronze Star
Unable to find the citations for his two Distinguished Flying Crosses and three Bronze Stars engraved on his memory marker. He was also awarded the Purple Heart prior to his loss.
Other
John was commanding officer of Fighter Squadron (VF) 151 from April 9, 1966 to March 1967. During this time the squadron was heavily engaged in the Vietnam War, operating from USS Constellation (CVA 64).