JOHN J. EBNET, LCDR, USN
From USNA Virtual Memorial Hall
Birthdate & Date of Loss
| | |
| --- | --- |
| Date of birth: | May 8, 1920 |
| Date of death: | June 29, 1951 |
| Age: | 31 |
Lucky Bag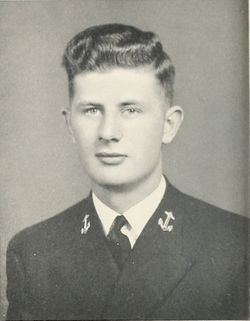 From the 1942 Lucky Bag:
JOHN J. EBNET

Jack

Jack had a hard time forgetting the Middle West for the Atlantic seaboard, but, after several years of struggle, the coast has finally won out. And during the battle he hasn't neglected any of the extra-curricular activities. His outstanding performance with the basketball team, and the way he held down the sports editorship of the Log are achievements in themselves. Above all that he found time to star.

Basketball 4, 3, 2, 1, N; Company Softball 3, 2; Stars 3, 2: Log 4, 3,2, Sports Editor 1; 1 Stripe.
The Class of 1942 graduated on December 19, 1941, less than two weeks after the United States entered World War II. The class had previously been scheduled to graduate in February 1942.
Loss
From the Arizona Republic on June 30, 1951:
Navy Bomber Crash Kills 8 KEY WEST, Fla., June 29 (UP) Eight navy fliers were killed and one injured Friday when a twin-engine patrol bomber crashed into ocean shortly after the takeoff. The plane flipped over on its back in 12 feet of water about a mile from President Truman's vacation White House here. The bodies of all three officers and five enlisted men killed were recovered and the navy identified seven of them. They were: Lt Cmdr. John J. Ebnet, 31, St. Cloud, Minn., the pilot. Lt. Cmdr. Oscar W. Myers, 43, Santa Barbara, Calif.; Lt. (JG) Percival N. Fenton, 24, Washington, D. C. copilot; Enlisted men: John T. Taylor, 26, Philadelphia; Maurice R. Flood, 23, Chicago; Otis Edwards, 24, Repton, Ala.; and Carmine J. Tufarella, 24, Jamaica, Y. Chief, aviation ordnanceman Ralph Draper, 28, of Dobbs Ferry, Y., was the sole survivor. The navy said he was thrown clear as the plane hit the water. He suffered a broken leg and minor shock. The name of the fifth enlisted man killed was withheld pending notification of nearest kin. Witnesses said the plane rose to about 100 feet above the water after taking off from, the naval seaplane base when its right wing dipped sharply. The big PBM spiraled into the ocean within seconds. Navy and coast guard crash boats picked up Draper and two other men who were thrown clear the wreckage. One was dead and another died en-route to the navy hospital.
He was engaged to be married in August 1945. It's unclear in this announcement of his memorial service, but he might have had a son.
John is buried in Minnesota.
Related Articles
Percival Fenton, Jr. '46 was also lost in this crash.