JOHN M. VILLEPIGUE, JR., ENS, USN
From USNA Virtual Memorial Hall
Birthdate & Date of Loss
| | |
| --- | --- |
| Date of birth: | July 20, 1920 |
| Date of death: | August 9, 1942 |
| Age: | 22 |
Lucky Bag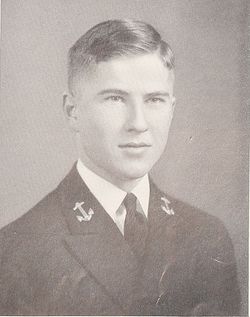 From the 1942 Lucky Bag:
JOHN McCAA VILLEPIGUE, JR.

Jack, Piggie, Villie

When you see a twinkle in his eyes, beware, for Jack is a master of mischief making. Practical jokes are his obsession, tennis and football his diversion. When Nature molded him for the fourth platoon, football lost an All American. But those who frequent the Naval Academy hops know his real love. Jack gives every promise to be a good naval officer. We know that he will keep that promise.

Tennis 4, 3, tNAt, Log 4; 2/c P.O.; 2 Stripes.
The Class of 1942 graduated on December 19, 1941, less than two weeks after the United States entered World War II. The class had previously been scheduled to graduate in February 1942.
Loss
John was lost when USS Quincy (CA 39) was sunk early in the morning of August 9, 1942 by Japanese surface forces at the Battle of Savo Island.
He has a memory marker in South Carolina. His father was listed as next of kin.