JOHN M. YANDELL, LT, USN
From USNA Virtual Memorial Hall
Date of birth: January 9, 1958
Date of death: July 15, 1986
Age: 28
Lucky Bag
From the 1981 Lucky Bag: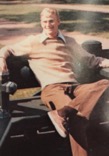 Loss
"Mike", the navigator for an OV-1B, was killed along with the pilot when they crashed on takeoff from Naval Air Station Norfolk on July 15, 1986. The turboprop Army observation plane crashed and burned during landing practice, killing Lt. Yandell and Capt. Scott H. Paul USMC; both were in training at the Naval Test Pilot School, Patuxent River, Maryland.
From The Star-Democrat on July 17, 1986:
An Army observation plane that crashed at the Norfolk Naval Air Station fell just short -of an officers' housing complex, officials said.

"They're lucky," Lt. Cmdr. Craig Quigley, a Navy spokesman, said of the nearby residents. "Another 100 yards and he would have plowed into that housing."

The two pilots were killed in Tuesday's crash of their twin-engine OV-1B Mohawk. The crash left debris scattered near the housing area, but no one on the ground was injured.

The fliers were identified as Navy Lt. John M. Yandell, 28, of California, Md., and Marine Corps Capt. Scott H Paul, 34, of Lexington Park, Md. They were in training at the Naval Test Pilot School at Patuxent River Naval Air Station in St. Mary's County, Md.

The crash occurred during touch-and-go landings at the east end of the main runway at 11:36 a.m., Quigley said. The cause of the crash was under investigation.

The aircraft had made several uneventful approaches, landings and takeoffs.

"He had just taken off and gone wheels up when he veered off to the right;" Quigley said. "The debris is pretty much centered ... which indicates that he came down at a fairly steep angle."

There was no evidence that either man had tried to eject, nor was there any hint of trouble before the crash, he said.

The victims had been students since January at the test pilot school 60 miles southeast of Washington, said Bill Frierson, a spokesman at Patuxent. They were to graduate in December and would have become engineering test pilots.

Frierson described the fliers as experienced military pilots.
From the November 1986 issue of Shipmate:
A memorial service was held at the Chapel at NAS Patuxent River on 18 July 1986.

Born in Florida on 9 January 1958, he was a native of Atlanta, Georgia. Lt. Yandell entered the Naval Academy from the State of Georgia; and graduated with the Class of 1981. Before entering the Academy, he attended Pace Academy where he was active in swimming, golf, and wrestling. He participated in the Navy League's Sea Cadet program for three years. He entered the Naval Academy Preparatory School in 1977 before appointment to the Academy.

At the Academy, he was commodore of the yard patrol craft squadron and was a Company Commander. He was awarded a ceremonial sword as outstanding midshipman in his Class.

Upon graduation, he entered flight training at Pensacola and became a Naval Flight Officer in 1982. He served with VAW-121 aboard DWIGHT D. EISENHOWER, flying an E-2C Hawkeye during two Mediterranean deployments. He was involved in operations in the vicinity of Beirut and Syria during the first deployment, and took part in Freedom of Navigation operations conducted near Libya during the second deployment.

Lieutenant Yandell entered the Naval Test Pilot School as a member of Class 90 in January 1986. His decorations included the Navy Commendation Medal, Navy Expeditionary Medal, Navy Unit Commendation, Meritorious Unit Citation, two Sea Service Deployment Ribbons, and the Expert Pistol Medal. He was a life member of the Naval Academy Alumni Association.

He is survived by his wife LuAnn of California, Maryland; his father, Mr. John N. Yandell and his mother, Mrs. James M. Ravenel, both of Atlanta; and a sister, Kathy, also of Atlanta. Contributions may be made to the Lt. Mike Yandell, USN Memorial Fund, c/o the Naval Academy Alumni Association.
John has a memory marker at the Annapolis National Cemetery.
Remembrances
From CAPT Larry Olsen, USN (Ret.) via email on June 4, 2019:
Mike and the rest of us who attended the Naval Academy Preparatory School started in Aug '76 and graduated in May '77. We had the last few days of May and that June off and then reported to the Academy for our Plebe Year on 5 July 1977. Much later, during USS DWIGHT D. EISENHOWER's (CVN 69) Med Cruise in 1982 or 1983, while aboard with VAW-121, Mike actually stood bridge and CIC watches and earned his Surface Warfare Officer pin! His years on the YP Squadron made him a rather capable shiphandler, even before his squadron deployed with Ike.

Mike was among the best of us, for sure! I am convinced that had he not had the aviation accident, he was destined to wear stars.
John is one of 14 members of the Class of 1981 on Virtual Memorial Hall.
The "category" links below lead to lists of related Honorees; use them to explore further the service and sacrifice of the alumni in Memorial Hall.