JOHN P. BOCK, ENS, USN
From USNA Virtual Memorial Hall
Birthdate & Date of Loss
| | |
| --- | --- |
| Date of birth: | unknown |
| Date of death: | January 9, 1945 |
| Age: | unknown |
Lucky Bag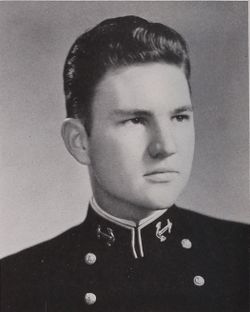 From the 1945 Lucky Bag:
John Joseph Bock

Kingman, Kansas

Born with a hayfork in his mouth, Jig-Jig decided to exchange it for the mariner's trident. He never tried very hard for any long suit to bid, but for three years he showed a strong no trump hand. He learned quickly plebe year to say, "I'll find out, sir" and has proven his ability since to handle responsibility. Bock's contagious friendliness has been felt by all except those unfortunate bearers of watch bills. His sense of humor and good will to all was seldom ever corrupted, not even by the shylocks of the academic department. John will be a success. More important he will enjoy life by bringing pleasure to others.

Battalion Pushball 3, 1945; Battalion Lacrosse 4, 3; Boat Club 4, 3, 7; Radio Club 3, 7; Reef Points 4; Portuguese Club 4.
The Class of 1945 was graduated in June 1944 due to World War II. The entirety of 2nd class (junior) year was removed from the curriculum.
Loss
John was lost with 17 others on January 9, 1945 while aboard USS Colorado (BB 45), operating in Lingayen Gulf, when the ship was struck by "accidental gunfire" from an unspecified source. Fifty-one other men were wounded in the incident.
John was buried at sea.
Related Articles
Robert Wolter, Jr. '41 was also lost in this incident.
Everett Herman '45 and Wilson Shafer, Jr. '45 were also in 2nd Company.