JOSEPH H. GOLLNER, LTJG, USN
From USNA Virtual Memorial Hall
Lucky Bag
From the 1949 Lucky Bag:
Loss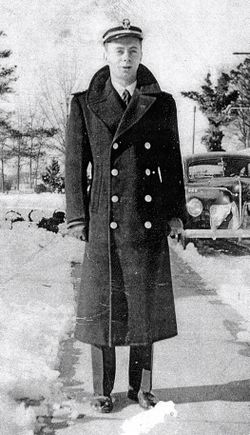 From Find A Grave:
Joseph H Gollner graguated from the Naval Academy, class of 1949. He went to Naval Flight School and was assigned to fly the Navy's AD-4 aircraft. Assigned to VF-54, flying from the USS Essex (CV-9) off the East Coast of Korea, he was killed in the line of duty shortly after takeoff on 11 Jan 1952. The Action Report from the Essex reports: "LTJG Gollner's plane departed at 1235 and after a normal takeoff, jettisioned 1-one thousand bomb then climbed abruptly to about 900 ft, made three shallow turns to the right, the last turn steepened into a nose down diving spiral. The plane sank immediately after striking the water. Two helicopters conducted a fruitless search for the pilot. No radio transmissions were received from the pilot at any time. Cause unknown."
Distinguished Flying Cross
From Hall of Valor:
(Citation Needed) - SYNOPSIS: Lieutenant, Junior Grade Joseph Henry Gollner (NSN: 0-521481), United States Navy, was awarded the Distinguished Flying Cross (Posthumously) for extraordinary achievement while participating in aerial flight while serving with Fighter Squadron FIFTY-FOUR (VF-54), embarked in U.S.S. ESSEX (CV-9), in action against enemy aggressor forces in Korea on 29 October 1951.

General Orders: All Hands (July 1952)
Action Date: October 29, 1951
Service: Navy
Rank: Lieutenant Junior Grade
Company: Fighter Squadron 54 (VF-54)
Division: U.S.S. Essex (CV-9)
Memorial Hall Error?
Joseph is not listed on the killed in action panel in the front of Memorial Hall. While not an obvious error, inclusion on the panel for crashes like this (incidental to combat flights) has been inconsistent across WWII, the Korean War, and the Vietnam War.
Joseph is one of 40 members of the Class of 1949 on Virtual Memorial Hall.