JOSEPH H. GOLLNER, LTJG, USN
From USNA Virtual Memorial Hall
Birthdate & Date of Loss
| | |
| --- | --- |
| Date of birth: | March 7, 1927 |
| Date of death: | January 11, 1952 |
| Age: | 24 |
Lucky Bag
From the 1949 Lucky Bag:
Joseph H. Gollner

SALISBURY, MARYLAND

Joe's first glance at this big world took place in Wheeling, West Virginia, but he eventually wound up as a native Marylander. After graduation from Wicomico High in Salisbury, "The Count", a Life Scout, sold his '34 Dodge and trekked to the U. of Maryland, where he was lured first by Sigma Chi and then by a Naval career. Without a doubt he was the most suave gent in these parts, but his French cuffs and fancy links caused him no end of trouble with the braid of Bancroft. For the women, the little guy was an explorer, but dynamite! Joe's many likes included swimming, music, hunting, flying, and the drums which he played like Krupa. His popularity insured him success whatever way he went, even over the wall. We didn't worry about him, though, for Joe was the sort of a guy who just couldn't miss the mark.
Joe was a member of the waterpolo team and manager of the swim team.
Loss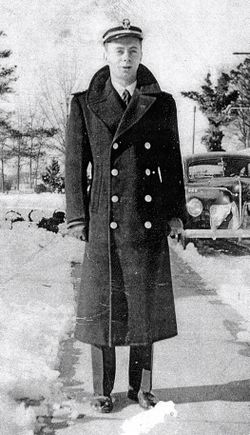 From Find A Grave:
Joseph H Gollner graguated from the Naval Academy, class of 1949. He went to Naval Flight School and was assigned to fly the Navy's AD-4 aircraft. Assigned to VF-54, flying from the USS Essex (CV-9) off the East Coast of Korea, he was killed in the line of duty shortly after takeoff on 11 Jan 1952. The Action Report from the Essex reports: "LTJG Gollner's plane departed at 1235 and after a normal takeoff, jettisioned 1-one thousand bomb then climbed abruptly to about 900 ft, made three shallow turns to the right, the last turn steepened into a nose down diving spiral. The plane sank immediately after striking the water. Two helicopters conducted a fruitless search for the pilot. No radio transmissions were received from the pilot at any time. Cause unknown."
Distinguished Flying Cross
From Hall of Valor:
(Citation Needed) - SYNOPSIS: Lieutenant, Junior Grade Joseph Henry Gollner (NSN: 0-521481), United States Navy, was awarded the Distinguished Flying Cross (Posthumously) for extraordinary achievement while participating in aerial flight while serving with Fighter Squadron FIFTY-FOUR (VF-54), embarked in U.S.S. ESSEX (CV-9), in action against enemy aggressor forces in Korea on 29 October 1951.

General Orders: All Hands (July 1952)
Action Date: October 29, 1951
Service: Navy
Rank: Lieutenant Junior Grade
Company: Fighter Squadron 54 (VF-54)
Division: U.S.S. Essex (CV-9)