JOSHUA K. WATSON, ENS, USN
From USNA Virtual Memorial Hall
Lucky Bag
From the 2019 Lucky Bag:
Loss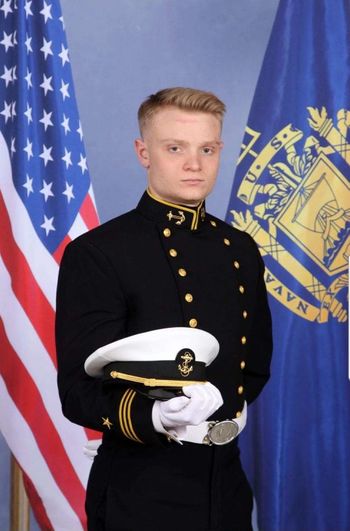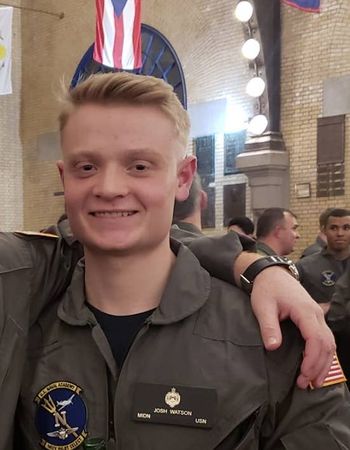 Josh was lost on December 6, 2019, when he was shot while serving as Officer of the Deck at a training building aboard Naval Air Station Pensacola, Florida.
The base's commanding officer said, "The Sailors that lost their lives in the line of duty and showed exceptional heroism and bravery in the face of evil. When confronted, they didn't run from danger; they ran towards it and saved lives. If not for their actions… this incident could have been far worse."
From the Pensacola News Journal:
"Joshua Kaleb Watson saved countless lives today with his own," Adam Watson wrote late Friday. "After being shot multiple times he made it outside and told the first response team where the shooter was and those details were invaluable.

"He died a hero and we are beyond proud but there is a hole in our hearts that can never be filled."

When reached by phone, Watson's father, Benjamin, said his son was the officer on deck at the time of the shooting. Joshua Watson, who is called Kaleb by some family members, was shot at least five times, he said.

"Heavily wounded, he made his way out to flag down first responders and gave an accurate description of the shooter," Benjamin Watson said. "He died serving his country."

A native of Enterprise, Alabama, about 125 miles northeast of Pensacola, Joshua was a natural leader, a huge Auburn football fan, and a person who put others first and strove to bring out the best in them, according to his family.

"Kaleb was starting grade school when Sept. 11 happened," his father said. "His uncle Richard Lindsay was a former Marine who served in (Operation) Desert Storm."

Lindsay was killed in a tragic vehicle accident, and his military service was an inspiration to Joshua.

"He's wanted to be in the military since he was 5 years old," his father said.

At the Naval Academy, Joshua was a small-arms instructor, a wrestling coach and a captain of the rifle team, his father said. With pride, Benjamin recounted that the Academy's rifle team had beaten the Army's for the first time in a decade under Joshua's leadership.

In the hours after the shootings, "I was texted by one of the officers who said Kaleb had saved lives," Benjamin Watson said.

He said two men had been killed at the scene of the attack, and that after Joshua spoke with law enforcement outside the training building, he was taken to Baptist Hospital. He later died of his wounds.

Michael Johnson, who lives next door to the Watsons, described the family as great neighbors. He said Joshua Watson was a kind and brave young man.

He said Joshua Watson once helped him rescue a neighbor's German shepherd after it became entangled in a rope.

"He immediately jumped the fence, unclipped the thing and we left a little note for the owner," Johnson recalled. "Amazing young man."

Benjamin Watson said Joshua is survived by two older brothers, and that the best thing people can do for his family is to pray for everyone who was affected by the shooting.

"There are young sailors in the hospital fighting for their lives, and others in great pain and distress from the actions of this shooter," he said.

Pain, pride and solemnity heavy in his voice, Benjamin Watson said he wanted people to know the true story of his son's life.

"His mission was to confront evil," he said. "To bring the fight to them, wherever it took him. He was willing to risk his life for his country. We never thought he would die in Florida."
On December 10, 2019 the acting Secretary of the Navy posthumously designated Josh a qualified naval aviator.
Josh is buried in Alabama.
Remembrances
From Facebook on December 7, 2019, the day after his death:
Josh,
I don't even know where to begin, I still can't believe you're actually gone. It still feels like you're going to text me any minute now and remind me yet again how much better Florida is than Minnesota. There's a part of me that is still looking forward to the plans we made of eating at Larry's and catching a movie in two weeks. The last time we talked was while you were getting dressed for your last watch...if I had known that would be the last time I got to talk with you, I would have told you just get ready a little bit slower. I just want you to know how glad I am to have made fun of your snotty green shirt that long ago day in high school and even happier that you decided to stick around after the fact. Because of you, I have made memories and friends that will last a lifetime. I will always remember every lazy day in front of the PlayStation and every adventure traveling around and getting chiggers. You knew how to get under my skin and how to make me laugh until I cried. You put up with every matching outfit and never let me sing alone in the car. You were always my biggest supporter and my greatest pain in the ass, but I would do it all over again in a heartbeat. Even after life pulled us apart, we never lost each other. We continued to share in each others triumphs and depressions. No matter the label we placed on each other, you never stopped showing me what it was like to be loved. Without you, I never would have been welcomed into such a wonderful and loving family who never shut their doors to me. And I hope you know how incredibly proud of you I was, and still am. You were my first love and forever my best friend. "Like peas and carrots" we will always be.
Love, Cori
Cori posted over thirty photos; some are below.
From the March 2020 issue of Shipmate:
Maya Angelou once said, "People will forgot what you said, people will forget what you did, but people will never forget how you made them feel." We will never forget how Joshua Kaleb Watson made us feel: Important. Joyful. Special. It is challenging to put into words the impact of such a person, who was our friend, confidant, role model, and most importantly, our hero.

Josh was inspired to join the Navy by his uncle, a combat Marine. Traditions, a sense of family, and prestige are what initially attracted Josh to the Naval Academy. With support of his parents, Sheila and Benjamin, and his brothers, Zach and Adam, Josh began his naval career by attending NAPS. Josh had a talent of making everyone laugh, while simultaneously reminding those around him of their sense of duty and professionalism.

Not that he was without quirks—as even heroes aren't perfect. For instance, it was hard for his 10th Company family at the Naval Academy to miss the way he scraped the marinara sauce off his meatballs before dunking them in a cup full of water to wash the remaining tomato off. Josh didn't care about the laughter it caused, because he was always unapologetically himself. And we loved him for it.

Josh epitomized a proper naval officer: dedicated to leadership and growth, Josh showed an overwhelming desire to put others before himself. On and off Academy grounds, he never missed an opportunity to stand up for those who could not stand up for themselves. He had a kind word for everyone—even the Plebes. He always wanted to continue the conversation. He gave advice when needed and listened when needed, showing genuine interest in the feelings and well-being of others. Josh always took care of everyone. For instance, as captain of the Rifle Team, he advocated that every member receive a varsity sweater because, as he put it, they had all dedicated and the work to deserve it.

After graduation and his commissioning, Josh was given temporary duty at the Academy before heading to Naval Air Station Pensacola. One of his responsibilities was to instruct Plebes in their wrestling class, ultimately becoming known as leader of the "Watson Warmup": an enthusiastic, energetic warmup that left everyone smiling and feeling welcome—even if sometimes he had to make himself the butt of jokes. The first semester for Plebes is a grueling and often miserable time, but he turned wrestling into a sanctuary for them, an escape. Heroes of classic stories often suffer from excessive pride. Not Josh. He never felt embarrassed by trying to put others at ease.

Josh left the Naval Academy filled with an unrelenting commitment to his country. He arrived in Pensacola with dreams of becoming a jet fighter pilot. He wanted to be in the fight, he just didn't realize how quickly it would confront him.

There are few people in this world who you inherently know you can count on when the time comes. It was no surprise to those who knew him, that in Josh's final act of heroism he fought, by reflex, to save others. It is this profound compassion and love which Josh exhibited that inspires all of us who are blessed to keep him in our minds and hearts, and the reason he will always be our hero. Josh has earned his eternal wings, and there is no doubt he is still caring for us all. Rest easy Josh.

We have the watch.
Additional Photographs
Video Interview
Pete Medhurst with Navy Sports Magazine interviewed Josh in January 2019.
Have not been able to locate the citation for this award.
Note on Killed In Action Determination
Task and Purpose reported on March 11, 2020 that Kaleb and the two sailors killed had been awarded the Purple Heart, which is for service members killed or wounded by enemy action.
The "category" links below lead to lists of related Honorees; use them to explore further the service and sacrifice of the alumni in Memorial Hall.