LAWRENCE K. DROOM, LCDR, USNR
From USNA Virtual Memorial Hall
Lawrence Kendall Droom was admitted to the Naval Academy from Tennessee on July 5, 1929 at age 20 years 2 months.
He resigned on October 14, 1929.
Lucky Bag
Listed as "Forced Landing" from Plebe Year.
Biography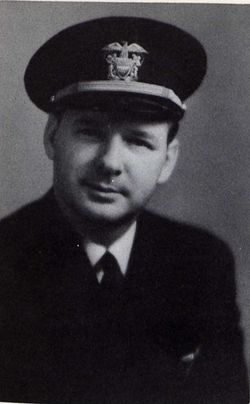 From the 1953 edition of the book "Double Three Roundup," published by the class of 1933:
After three years of enlisted service in the Navy terminating in July of 1929, Larry entered the Academy as an appointee from Tennessee. In October of the same year he resigned and went into the automobile and wholesale gasoline and oil business with his uncle in Kingsport, Tennessee. Larry was commissioned in the Naval Reserve in March of 1942 and went to Pensacola for flight training. After receiving his wings he was assigned to the Naval Reserve Aviation Base in Chicago, and then in November 1943 reported to Ferry Squadron two. He was attached to Fighter Squadron One in the BENNINGTON, for which duty he received three Air Medals and the Distinguished Flying Cross for Meritorious service during action against the Japs at Honshu and Hokkaido.

Larry was released from active duty in April of 1946 and became a partner in Roesling-Monroe and Company, a vegetable oil brokerage firm in Chicago. He continued to be active in the Naval Reserve with two weeks active duty during the springs of 1947, 1948 and 1949.

While on this last two weeks of training he was killed on March 19, 1949, as a result of a plane crash, while piloting a Corsair in a landing on the CABOT, forty miles southwest of Pensacola.

Larry married Ruby Branscom of Johnson City, Tennessee, on 27 September, 1938. Ruby tells us that flying and golf were Larry's main hobbies and that he was a member of the Kiwanis Club and the Fats and Oil Club. After Larry's death, Ruby and the two children, Frances Anne (1940) and Jane (1942), remained in Chicago until early in 1951 when they moved to Columbia, South Carolina. Ruby was remarried in April 1951, to Ralph Mehlman, and they are living at 1429 Berkeley Road in Columbia, South Carolina.
Loss
Lawrence was lost while re-qualifying in aircraft carrier operations off the coast of Florida on March 19, 1949.
He lived in Kingsport both before and after the war; post-war he was head of an auto agency and owned a service station.
Lawrence was survived by his wife, two daughters, and his mother. He is buried in Illinois.
Wartime Service
He became naval aviator #15506 as a LTjg, USNR, on July 22, 1942.
He is mentioned in a brief newspaper article from November 1945 as a member of Fighting Squadron (VF) 1, flying from USS Bennington (CV 20).
Lawrence is one of 38 members of the Class of 1933 on Virtual Memorial Hall.