LEWIS HANCOCK, JR., LCDR, USN
From USNA Virtual Memorial Hall
Lucky Bag
From the 1910 Lucky Bag:
Biography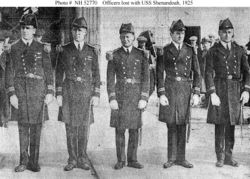 From Naval History and Heritage Command:
Lewis Hancock, Jr. was born on 15 October 1889 in Austin, Texas. He was appointed to the U.S. Naval Academy from that state in 1906 and graduated in June 1910. He served in the battleship Vermont before being commissioned as an Ensign in March 1912, then underwent submarine instruction and served in the new submarine G-1. In 1913-1915 Ensign Hancock commanded the submarine C-2. Promoted to Lieutenant (Junior Grade) in 1915, he was Commanding Officer of the submarine L-4 in 1916-1918, receiving the Navy Cross for "distinguished service" in her during World War I combat operations against German U-boats. Later in 1918 Lieutenant Commander Hancock was Captain of another submarine, USS L-7. He also had wartime and post-war tours as a machinery inspector.

During the first years of the 1920s, Hancock served in the battleships Georgia and Wyoming, commanded the destroyer Sloat and had shore duty with the Navy Department and the Department of Commerce. Assigned to airship duty in 1922, he was designated a Naval Aviatior in 1924, while serving with the dirigible Shenandoah (ZR-1). Lieutenant Commander Hancock was the airship's Executive Officer when she crashed on 3 September 1925, and lost his life in that tragic accident.

His widow, Joy Bright Hancock, a long-time employee of the Bureau of Aeronautics, became one of the Navy's first women officers in 1942 and, as a Captain, was Director of the WAVES during the later 1940s and early 1950s.
Lewis is buried in Arlington National Cemetery.
From Hall of Valor:
The President of the United States of America takes pleasure in presenting the Navy Cross to Lieutenant Commander Lewis Hancock, Jr., United States Navy, for distinguished service in the line of his profession in Command of the AL-4 during World War I. Under his command this vessel made numerous contacts with the enemy, and on one occasion attempted the dangerous feat of diving at a submerged enemy submarine to ram her.

Service: Navy
Division: U.S.S. AL-4

Namesake
USS Lewis Hancock (DD 675) was named for Lewis; the ship was sponsored by his widow.
Related Articles
Zachary Lansdowne '09 was the commanding officer of Shenandoah.
Lewis is one of 15 members of the Class of 1910 on Virtual Memorial Hall.