MARK A. LANGE, LT, USN
From USNA Virtual Memorial Hall
Date of birth: August 17, 1957
Date of death: December 4, 1983
Age: 26
Lucky Bag
From the 1979 Lucky Bag:
Loss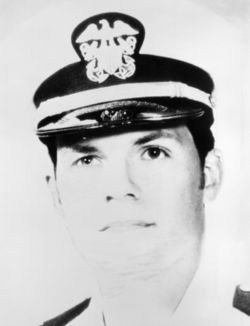 From Find A Grave:
Lt., U. S. Navy, Pilot, A-6E Intruder Aircraft, Attack Squadron VA-85 "The Black Falcons", USS John F. Kennedy CV-67.

The Intruder from VA-85 was hit by an SA-7 or SA-9 missile into the engine nozzle right after dropping its bomb-load, while still in a dive through 1.800ft. The rear fuselage and one wing were immediately afire, and then the starboard engine exploded. The pilot, Lt. Mark "Doppler" Lange, did his best to keep the aircraft airborne and enable his bombardier/navigator (BN), Lt. Bobby Goodman, to eject safely. After almost colliding with the ground the aircraft was seen to pull up into the sky for the last time - and then it crashed on a 245m high hill, directly above a village surrounded by Syrian AAA-positions. Lt. Lange ejected in the final moment, but his parachute failed to properly deploy by the time he hit the ground: his left leg was so severely injured, Lange died shortly after in the hands of several Syrian troops and Lebanese civilians. Goodman broke three ribbs and injured the shoulder and a knee during the landing, but was otherwise OK. He was captured by the Syrians immediately afterwards, and taken to Damascus.
News report
From The Washington Post on December 5, 1983:
"Ever lost a kid?" Walter Lange asked yesterday afternoon, shortly after the television set in his home in the Detroit suburb of Fraser told him his son, U.S. Navy Lt. Mark A. Lange, 26, was dead.

Lange, a pilot, and his fellow crew member, bombadier Lt. Robert O. Goodman Jr., 27, of Portsmouth, N.H., were flying their A6E light fighter bomber on a retaliatory bombing raid over Syrian targets in the central Lebanese mountains yesterday when a surface-to-air missile crippled their plane, according to reports from the Pentagon.

At 5 p.m. yesterday, Walter Lange had no official confirmation of the message delivered with spare electronic grimness by a local Detroit television station. Four hours earlier, a military messenger had told him "only that Mark was shot down and his status was unknown," Lange said in a telephone interview.

…

There were pictures, still photos an Associated Press photographer had taken of two downed American fliers. But Lange had seen no picture of his son when he spoke on the phone. He had heard about the attacks on U.S. reconnaissance planes that had prompted the retaliatory strike, about 28 planes going out on the bombing mission, about the downing of two of the planes and the rescue of one pilot. But nothing more about his son.

…

Lange's father also was in the military, as an enlisted man in the Navy at the end of World War II.

Asked about his son, Walter Lange said simply, "He was doing what he was trained to do." Mark, one of five Lange children, is divorced and the father of a one-year-old son.

Both Marilyn Goodman and Walter Lange had been under the impression that their sons' ship, the USS Kennedy, had left the danger zone of the eastern Mediterranean.

"As I understand it, he wasn't supposed to be there very long," said Mrs. Goodman. "I thought he would be gone by the end of the month.

In a taped message that Lange sent to his parents a few days ago, "he said he thought he was headed for the Indian Ocean," the elder Lange said.

Then he said calmly, "I do need to keep this [telephone] line clear."
Memorials
From Together We Served:
Alumni Hall - Basketball, Volleyball & Wrestling at the U.S. Naval Academy has a music room that was named for Lt. Mark Lange, Class of 1979, because he had been in Academy Glee Club and, whose plane was shot down over Lebanon in Dec. 1983. Residents from Lange's hometown of Detroit and the surrounding areas funded the room.
Memorial Hall Killed in Action Panel
His name is listed with five other alumni under the heading "Lebanon 1983" on the killed in action panel in the center of Memorial Hall.