MARK C. SAGERHOLM, 1LT, USMC
From USNA Virtual Memorial Hall
Date of birth: February 1, 1960
Date of death: December 30, 1987
Age: 27
Lucky Bag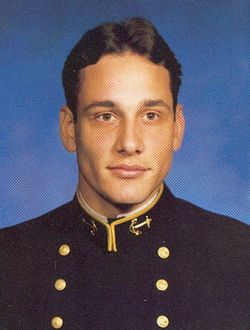 Loss
From the Los Angeles Times on January 1, 1988:
Military investigators searched through rubble Thursday for hints of what caused a Camp Pendleton-based Marine reconnaissance plane to crash in the rolling desert hills while on a "navigational" flight near Twentynine Palms.

The pilot and the observer in the propeller-driven OV-10 Bronco were killed in Wednesday's crash.

The pilot was identified as 1st Lt. Gregg A. Rodler, 29, of Pittsburgh. The second Marine in the aircraft, an observer, was identified as 1st Lt. Mark C. Sagerholm, 27, of Rectortown, Va., Marine Sgt. Jeri Van Duzen said.

The plane was on a low-level run. Its altitude was last reported at about 200 feet. The pilot never indicated that he was having any mechanical problems, Marine officers said.

Maj. Gen. D.E.P. Miller, who viewed the accident site 30 miles east of the Marine Corps Air Ground Combat Center at Twentynine Palms, said there were "indentations" in the earth where the plane struck three times, strewing a path of wreckage 200 meters long and 50 meters wide.

But there were no parts of the plane in the holes, indicating that the plane was not in a steep dive when it crashed, he said. Its speed at the time of the accident was estimated at 180-200 m.p.h.

There was a small fire after the crash, but it was confined to one wing. The plane, according to witnesses, was in a slight "nose-down" position when last seen.

Another OV-10 assigned to the Marine Observation Squadron 2 at Camp Pendleton was flying with the downed aircraft Wednesday and reported the crash. The observation squadron is part of the 3rd Marine Aircraft Wing, based at the El Toro Marine Corps Air Station in Orange County.

Miller, commanding general of the 3rd Marine Aircraft Wing, said Rodler had a superb reputation in the squadron and Sagerholm was a senior observer in the squadron.

"There was no indication that the pilot and the observer attempted to eject from the plane," Miller said.

Miller said the weather was almost perfect, with light, variable winds and almost unlimited visibility, when the accident occurred.

He said communications from the aircraft just before the crash did not indicate that it was having mechanical problems.

"We just don't know what happened yet," Miller said. "The accident team is sifting through the pieces, attempting to put the pieces of the puzzle together."

It could be weeks before investigators know why the plane crashed.

The two-seat aircraft is used for reconnaissance, to control air strikes, artillery and naval gunfire, and to escort helicopters. It can also be used for low-level photography. The OV-10 is manufactured by Rockwell International.

Miller said the plane was not carrying any ammunition or rockets when it crashed, making an in-flight explosion unlikely.

"It is a terrible way to end the year," Miller said.