MICHAEL D. MUELLER, 1LT, USMC
From USNA Virtual Memorial Hall
Date of birth: August 10, 1961
Date of death: May 20, 1987
Age: 25
Lucky Bag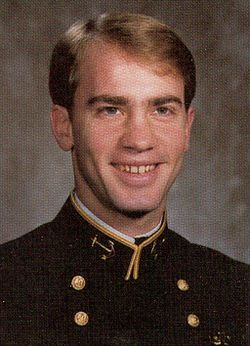 Loss
Michael was lost on May 20, 1987 when his F/A-18B crashed in the mountains in California. He was a naval flight officer with Strike Fighter Squadron (VFA) 125; the crash site wasn't found for over a year.
His identifiable remains are buried in Oklahoma; the commingled remains of he and his pilot are buried in Arlington National Cemetery.
Obituary
From the June 1988 issue of Shipmate:
1st Lt. Michael D. Mueller USMC was declared missing and presumed dead following a routine training flight in an FA-18 on 20 May 1987 when die plane failed to retum to NAS Lemoore Califomia. Lieutenant Mueller and his instructor-pilot were attached to Strike Fighter Squadron 125 at Lemoore.

A memorial service was held at NAS Lemoore on 26 May for both pilots. A memorial service was held for 1st Lt. Mueller on 5 July at his home church. First Wesleyan Church, Bartiesville. Oklahoma.

Born in Colorado Springs, Colorado, he grew up in Bartiesville. attended public schools there, including College High School, and won an appointment to the Naval Academy from Oklahoma. He had attended Bartiesville Wesleyan College for a year before entering the Naval Academy with the Class of 1984. In Bartlesville. he played baseball from second grade through college at Wesleyan. He was also a member of the school band, becoming drum major; at the Naval Academy, he was a member of the Drum and Bugle Corps.

Graduating in the top fifth of his Class, he accepted a commission in the Marine Corps and attended Basic School at Quantico, Virginia, from which he finished second in a class of 900. He served six months at Headquarters, Marine Corps, and then reported to flight school at Pensacola, earning his wings in March 1987. He was subsequentiy assigned to Strike Fighter Squardron 125 for training in the FA-18 Hornet.

Lieutenant Mueller is survived by his parents, Mr. and Mrs. Don Mueller of 1800 Polaris Dr. Bartlesville. Okla. 74006. Memorials may be made in 1st Lt. Mueller's honor to the First Wesleyan Church of Bartlesville for the placement of Bibles through the Gideon Living Memorial Plan.
Michael is one of 9 members of the Class of 1984 on Virtual Memorial Hall.