MICHAEL F. BROWN, LT, USN
From USNA Virtual Memorial Hall
Lucky Bag
From the 1977 Lucky Bag:
Loss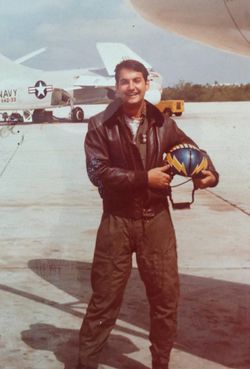 From the UPI Archives on August 6, 1982:
MANILA, Philippines -- The U.S. Navy said today it called off the search for six Americans missing and presumed killed when their EA-3B Skywarrior jet crashed in the Indian Ocean during a training flight.

The six crew members of the reconnaissance plane were 'presumed lost at sea,' said a Navy press statement released at the U.S. Subic Bay Naval Base, the 7th Fleet logistics center in the Philippines.

They were identified as Lt. Frank N. Kertscher, 26, of Hopatcong, N.J.; Lt. Michael F. Brown, 28, of Dallas, Texas; Lt. David A. Pies, 26, of Mesa, Ariz.; Petty Officer 2C William B. Snider, 21, of Laxley, Ala.; Petty Officer 2C Brian S. Watson, 23, of Wilmington, Del., and Seaman Terry D. Smith, 19, of Detroit, Mich.

A seventh crew member aboard the Skywarrior was rescued without apparent serious injury, by a helicopter from the aircraft carrier USS Ranger -- from which the ill-fated jet took off on a routine training mission on Wednesday. The survivor was identified by a Navy spokesman on Guam as Petty Officer 2-c Robert L. Huff, 21, Wheaton, Maryland. The spokesman said he was put safely aboard the Ranger and suffered only cuts and bruises.

Ranger, four other Navy ships, and a P-3 Orion long-range patrol aircraft spent 27 hours in scattered showers and overcast skies searching the area where the Skywarrior crashed. The search was abandoned at dusk Thursday after the rescuers found only 'small quantities of scattered debris.'

The Skywarrior, modified to perform electronic warfare missions, was assigned to Fleet Air Reconnaissance Squadron One based at the naval air station at Agana, Guam.

The cause of the crash was not immediately known and an investigation was under way, the Navy said.
Michael is one of 16 members of the Class of 1977 on Virtual Memorial Hall.