PAUL A. AMBROGI, LT, USN
From USNA Virtual Memorial Hall
Date of birth: July 26, 1966
Date of death: July 23, 1993
Age: 26
Lucky Bag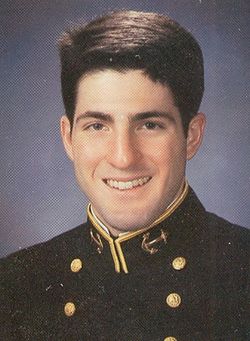 Loss
From the AP News Archive on July 24, 1993:
PAINT BANK, VA. PAINT BANK, Va. (AP) _ The pilot and co-pilot of a Navy A-6 Intruder were killed when their jet slammed into a mountain, igniting a 10-acre forest fire.

The jet was with an attack squadron flying a routine training mission from the Oceana Naval Air Station in Virginia Beach, Lt. Kevin Wensing said. Navy officials identified the pilot as Lt. Paul A. Ambrogi, 26, of Richmond, Va. The bombadier-navigator was Lt. Joseph Kendall Rough, 28, of Wilmington, N.C.

Twenty-eight firefighters worked to contain the fire, authorities said. The crash occurred about 11:30 a.m. in the wilderness about 30 miles northwest of Roanoke, near the Virginia-West Virginia line. Rescue teams hiked for more than three hours over rugged terrain to reach the site, Virginia State Police said.
Obituary
From findagrave.com:
Lt. Paul A. Ambrogi, USN, of Virginia Beach, died Friday, July 23, 1993.

He is survived by his parents, Franco and Ruth Ambrogi; two brothers, Mark L. and Anthony F. Ambrogi; his sister and brother-in-law, Maria and Kevin Reardon; two nephews, Jonathan and Matthew Reardon; and his grandparents, Alfred and Ruby Miller, all of Richmond.
From the October 1993 issue of Shipmate:
Lieutenant Paul Alfred Ambrogi passed away on 23 July 1993 when his Navy A-6E "Intruder" aircraft crashed during a routine training mission over the state of Virginia. Memorial services were held on 28 July 1993 at the NAS Oceana Base Chapel and on 29 July 1993 at St. Benedict Church in Richmond, Virginia.

Paul was bom in Richmond, Virginia, on 26 July 1966. He began his naval aviation career in Pensacola, Florida, and was subsequently selected for jet training at NAS Meridian, Mississippi. After completing intermediate and advanced carrier jet qualifications at Training Squadrons Nineteen and Seven, he earned his "Wings of Gold" on 1 June 1990. Paul then traveled to NAS Oceana, Virginia, and reported aboard Attack Squadron Forty-Two for A-6E "Intruder" pilot training. In December of 1991 he was assigned to the "Sunday Punchers" of Attack Squadron Seventy-Five, where he was designated an A-6 section leader. During Paul's tour in VA-75, he accumulated over 900 total flight hours, 180 carrier landings and corapleted a six-raonth deployment to the Meditertanean and Adriatic seas aboard USS JOHN F KENNEDY (CV-67) flying missions in support of operation "Provide Promise."

Paul received the ComNavAirLant Battle "E" ribbon, the National Defense Service Medal, the Sea Service ribbon and numerous personal and unit awards and decorations.

Paul is survived by his father and mother. Franco and Ruth Ambrogi, his two brothers, Mark Lawrence Ambrogi and Anthony Francis Ambrogi, and his sister, Maria Theresa Reardon.

Remembrances in Paul's name may be made to the Lt. Paul Alfred Ambrogi Memorial Scholarship Fund, Benedictine High School, 304 North Sheppard St., Richmond, Va. 23221.

Roy B. Strachan