PETER H. KRUSI, CDR, USN
From USNA Virtual Memorial Hall
Lucky Bag
From the 1953 Lucky Bag:
Loss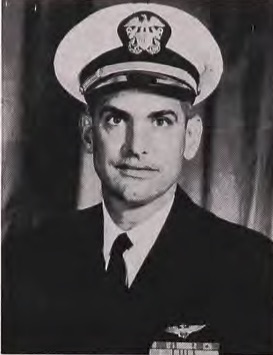 From the January 1968 issue of Shipmate:
LCdr. Peter H. Krusi, USN, died at sea on 3 Nov. as the result of an aircraft accident during night operations off USS CONSTELLATION. He had been serving as executive officer of Heavy Attack Squadron 8. Memorial services were held on board ship.

LCdr. Krusi was born in Elmhurst, Ill., and graduated from the Naval Academy in 1953. He served in USS BEXAR; received his wings at Pensacola, and completed advanced training at the Naval Air Auxiliary Station, Chase Field, Beeville, Tex. He served with Fighter Squadrons 123 and 53—redesignated VF-53, then studied aeronautical engineering at the Naval Postgraduate School. His various assignments were assistant bomb liaison officer, systems engineer and test pilot at the Naval Air Special Weapons Facility, Kirtland Air Force Base, Albuquerque; assistant weapons officer and later weapons officer on the Staff, Commander Fleet Air Mediterranean; Heavy Attack Squadron 123. He joined Heavy Attack Squadron 8 as maintenance officer in January 1966.

He is survived by his widow Mary Ingraham Krusi of Oak Harbor, Wa.; a son Alan Peter, and daughter Sharon Dawn; and his parents.
From Find A Grave:
Son of Jacob Krusi and Erna Frieda Schmid

Graduated from U. S. Naval Academy in the class of 1953, entered flight training at Pensacola and designated Naval Aviator.

Killed in crash of KA-3B tanker Bureau Number 147653 when bridle failed during catapult launch and loaded aircraft flying from USS Constellation operating off Vietnam impacted the water.
Peter was promoted to CDR after the crash. It seems to be a posthumous promotion (as opposed to one made while in a missing status); some sites list him as LCDR.
He was survived by his wife, Mary, and "two children." (Information from January 1968 issue of Shipmate.)
Remembrances
From Wall of Faces:
I remember Mr. Krusi, his booming voice and his huge smile. When we went over to their house, the world seemed to spin around him. I remember that he used milk cartons to start fires in the fire place, and the fires were HUGE! His daughter Dawnie was my friend and she adored her father. I could see why because he was just magnetic, friendly and ever so fun. I was just in awe of him.

The phone call came very early that morning. Mom came into my room to tell me that Pete's plane was missing, and that we had to go over to their house. Mrs. Krusi's face was stained with tears, Dawnie was ashen. I did not see how Mr. Krusi could be missing because he seemed so ALIVE.

My Dad became CO when Mr. Krusi died. My Dad came home. But I will never forget you Mr. Krusi. DEB BARKER, DJB124@EARTHLINK.NET, 3/6/15
(Note that this last comment doesn't seem accurate; the last commanding officer of VAH-8 took command in December 1966, before Peter's loss. The squadron was disestablished in January 1968. Perhaps she meant "became a commander"?)
Peter is one of 62 members of the Class of 1953 on Virtual Memorial Hall.
The "category" links below lead to lists of related Honorees; use them to explore further the service and sacrifice of the alumni in Memorial Hall.