PETER W. SHERMAN, CAPT, USN
From USNA Virtual Memorial Hall
Date of birth: August 4, 1929
Date of death: June 10, 1967
Age: 37
Lucky Bag
From the 1951 Lucky Bag:
Loss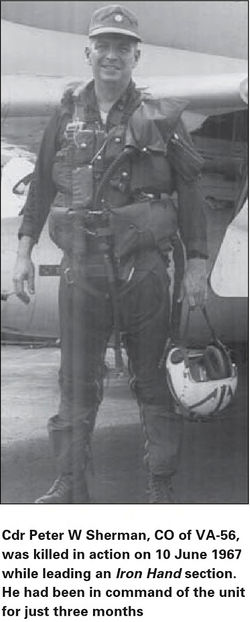 From Find A Grave:
His aircraft crashed 45 miles off shore near Hon Me Island. His remains were recovered on January 16, 1991 and identified on April 29, 1991. Captain Sherman was a member of Attack Squadron 56, Carrier Air Wing 9 aboard the Aircraft Carrier USS ENTERPRISE (CVAN-65). On June 10, 1967, he was the pilot of a Douglas Attack Aircraft Skyhawk (A-4C) over Nghe An Province, Vietnam when his aircraft crashed 45 miles off shore near Hon Me Island. His remains were recovered on January 16, 1991 and identified on April 29, 1991. His name is inscribed on the Courts of the Missing at the Honolulu Memorial.

PETER WOODBURY SHERMAN - Navy - CAPT - O6 Age: 44 Race: Caucasian Date of Birth Aug 4, 1929 - Born M.., Mass. From: BAY VILLAGE, OH Religion: PROTESTANT Marital Status: Married - Elizabeth Robinson Sherman. Sons, Paul Wilson Sherman and Peter Sands Sherman. Daughters, Ellen Sherman and Gail Sherman, all from Carmel, CA. Note: 22 year married Navy veteran. Parents: Father, Col. Frank James Sherman, (1902 - 1976) and Mother, Barbara Sands Sherman, (1903 - 1994), both of Captains Walk, Mass.

---

The Bay Village, Ohio Memorial Day Parade still passes Capt Sherman's "home of record" every Memorial Day - and his name is read, in remembrance, at Cahoon Park, just down the street. Richard Ross Bay Village Post - American Legion
He was the Commanding Officer of Attack Squadron (VA) 56 at the time; he had only taken command a few months earlier, in mid March. He is buried in Arlington National Cemetery.
Shipmate
From the March 1974 issue of Shipmate:
Capt. Peter Woodbury Sherman, USN, who has been Mi.ssing in Action since 10 June 1967, is now presumed killed in Action as of 17 October 1973.

Born in Melrose, Mass., Capt. Sherman graduated from the Naval Academy in 1951. He attended postgraduate school in Monterey, Cal., in Aero Engineering. He served in the USS Salem as Junior Officer in Gunnery and Operations, OOD and CIC Watch Officer. After being designated Naval Aviator in 1954 he served in Fighter Squadron 123, Guided Missile Group 1, and VA-43. While serving as CO Attack Squadron 56 he failed to return from a mission over North Vietnam.

His campaign and service medals include the Navy Occupation (Europe); China Service; and National Defense.

Surviving are his widow, Elizabeth, P.O. Box 1245, Carmel, CA 93921; two daughters, Ellen and Gail, and two sons, Paul and Peter.
Remembrances
From SOCnet:
Monday, 15 May 1967 dawned like any other of many in the Tonkin Gulf. It turned out to be, however, a most memorable day in my life.

In late 1966 or early 1967, it was determined by those in high places that there was a greater chance of a combat aviator being shot down (or shot up) on his last mission than on any of the others. Now, this chance wasn't great – less than one percent as I recall, but the decision was taken to do something about it. It was determined that they just wouldn't tell you that it was your last mission until you came back from it. Simplicity at it's finest.

And so it was that on the afternoon of 15 May 1967 the squadron Skipper, CDR Pete Sherman, photographer in tow, met me on the flight deck of USS ENTERPRISE after I beat the odds one more time, caught a 3 wire and then managed to get the A4C parked. There he informed me that I would no longer be allowed to fly combat missions for the 'Attackin' 56th' (VA-56). The attached photo commemorates the event. My extreme disappointment at hearing this news is clearly evident in my facial expression.

The mission, itself, is not memorable. A 'target of opportunity' jaunt into North Vietnam. Some empty barges were involved which, no doubt, were of a lesser monetary value than the 'dumb iron bombs' we used to put them on the bottom of whatever muddy river that was.

I had orders to 'detach in May' and now, after two trips out to the 'friendly skies', it was finally over. In fact, was nearly over for the squadron, airwing and ship, as well, as there was only one more line period to do before the deployment was to end.

I got to the ready room, received congratulations and listened half-heartedly to the LSO debrief before being told that the Captain wanted to see me on the bridge. Normally, this is NOT good news. Could it be that my navigation was so fouled up that we sank a bunch of friendly barges laden with food, medical supplies and care packages for homeless and impoverished South Vietnamese? Nah! Too much AAA fire for that. It had to be something else. Like, maybe a message from SecNav extending me for four more years in country.

On the bridge, Captain Jim Holloway, future CNO and Chairman, JCS, was unusually subdued. He was solemn as he shook my hand and thanked me for all I had done – which was nothing more than any of his aviators had done. He then said, "No, no. There's no use in begging to stay. (I noted that look of extreme disappointment on your face when Pete met you on the flight deck.) You've done your share and now it's time to go home and spread the word about what it's really like out here."

I was somewhat flummoxed by this state of affairs. Where was the Captain? The REAL Captain, I mean. Where was the man who had once shouted across a packed O Club, "PAISLEY, you worthless SLACKER! By the time I was your age I'd been shot down THREE times!" It was obvious that aliens had abducted the Captain.

I managed to keep my feet on the deck throughout my visit to the bridge and then made my way back to the stateroom. I had to pack my meager belongings (four pieces of luggage and three cruise boxes) to get ready to depart the ship.

In short order, I boarded a C-1 (with my meager belongings taking up just about all the available onboard space) bound for Cubi Point. A day or so later, after modest celebrations at the club, I rented a car (with driver) from special services and made my way to Clark AFB for a charter to Japan and then HOME!! I only recall two things from that journey. First, onboard entertainment was provided by a SEAL Team returning home from their deployment. (THAT was worth the price of admission!) The other thing was glancing out the window of the left side of the Boeing 707 while departing Japan and taking in the eternal beauty of Mount Fujiyama in the late afternoon light just before entering a deep sleep (passing out?) for the next several hours. Upon awakening, I glanced out the same window to see . . . Mount Fuji! Right where it had been before! Needless to say, there were some anxious moments before the mental fog cleared enough to realize that what I was looking at was actually Mount Shasta in the early morning light! Almost home!

In just over a week after that last mission, I was with my loving family in the (relative) safety of California.

On 10 June 1967, CDR Peter W. Sherman, USN, was tagged by a SAM while on an Iron Hand mission near Hanoi, resulting in his name being inscribed on 'The Wall' along with so many others. He left a lovely wife and four great kids.

Pete was a good friend as well as my C.O.

ALL of them out there were good friends. I'll never forget them.

Best to all and take care -

John
Peter is one of 48 members of the Class of 1951 on Virtual Memorial Hall.