PHILIPPE B. FALES, MAJ, USAF
From USNA Virtual Memorial Hall
Lucky Bag
From the 1956 Lucky Bag: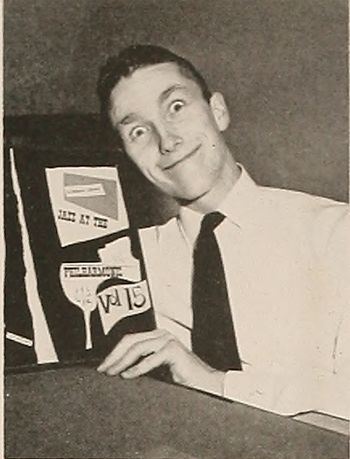 Obituary
From USNA '56:
Major Fales was killed in action by enemy ground fire in the Tay Ninh Province of Vietnam on 16 November 1969 while flying the new OV-10 Bronco, as a Forward Air Controller. Phil had volunteered in 1968 to go to Viet Nam following a two year assignment on Guam as a typhoon chaser in C-130s.

Phil was born in Neuilly Sur Seine France while his father, an Army Major, went to the French tank school. In fact, his given names derived from the family's close ties to a French Army Colonel. Phil was schooled at Fessenden in West Newton, Mass., South Kent in Conn., and Sullivan's in Washington D.C. prior to the Naval Academy. Following graduation, Phil entered the Air Force and flew B-47s in Kansas and was assigned to Minuteman Missile silo duty in Montana where he earned a Master's Degree in Aerospace Engineering from the Air Force Institute of Technology.

Phil met Judy, a University of Arizona student, during flight training at Marana AB, AZ. They were married in 1957 and had two children: Ellen and Eugene. Following Phil's death, Judy married a blue-chip West Pointer, Allan Renshaw, a friend and flight school classmate of Phil's. Phil had a profound love of life and the world about him. He was the embodiment of "joie de vivre." Blessed with enormous talent, he was just plain good at everything. Glad you came our way Phil!
Loss
From Honor States:
After graduating from the Naval Academy in 1956, Major Fales attended primary pilot training at the Marana Air Base in Arizona in Class 57T (1956-7).

Captain Fales was a "Rash" Forward Air Controller assigned to Bien Hoa. He was flying OV-10A (# 67-14644) from Tay Ninh City supporting the 1st Air Cavalry Division. He was flying visual reconnaissance near Katum when he was shot down by ground fire eight miles southeast of the city. An Army helicopter arrived at the crash site shortly after he crashed and recovered his body.
Shipmate
From the February 1970 issue of Shipmate:
PHILIPPE BUNAU-VARILLA FALES '56

Maj. Philippe B. Fales, USAF, died 16 November in Tay Ninh Province, Vietnam, when his OV-10 reconnaissance plane was shot down by enemy ground fire. He was attached to First Brigade, First Air Cavalry Division. Memorial services were held in the Church of the Holy Spirit, Lake Forest, Ill., and following cremation, his ashes were dispersed over the mountains of Jackson Hole, Wyoming.

Maj. Fales, born in Neuilly Sur Seine, France, was graduated from the Naval Academy in June 1956 and commissioned into the Air Force. He had duty with the Strategic Air Command in B-47's and with the first Minuteman Missile program in Great Falls, Montana, before earning a Master's degree from the Air Force Institute of Technology. After two years with the 54th Weather Reconnaissance Squadron on Guam which included four months of duty in Udorn, Thailand, Maj. Fales reported to the First Brigade, First Air Cavalry Division as air liaison officer.

Survivors include his widow Judith of 248 Circle Dr., Lake Bluff, II. 60044; a son Eugene Warren Fales ; a daughter Ellen M. Fales; his mother Mrs. Helene B. Fales of Carmel, Calif., and a brother Warren Fales of New York City.
Remembrances
From Honor States:
My remembrances of Phil go back to Malmstrom AFB in the first days of the Minuteman Missile System activation. Although he was the son of a senior naval officer and a graduate of the U.S. Naval Academy he was a very down to earth person and a natural born leader who also had a great sense of humor.

Phil owned one of the early VW's and could always be seen carrying the battery into the nearest building to keep it warm, he usually had some comment to cover this situation. These comments were always different and varied according to the current situation.

It was with a feeling of personal loss when I heard of his death. In January 1968 I arrived in Viet Nam and was able to observe first hand the valor displayed by the FAC. Were it not for the individual actions of the FAC many of us who relied on their skills would not be here today. William F. Buchholz, Lt/Col USAF Ret.
Other Information
From researcher Kathy Franz:
In December 1933, his father Eugene was relieved from duty at the French tank school in Paris. He did temporary duty in the office of the chief of Infantry in Washington, D.C., and then was a member of the Infantry board at Fort Benning. Mother Elaine, brother Warren (13 years older)
Philippe is listed on the National Vietnam Veterans Memorial; have been unable to locate a burial location.
Philippe is one of 26 members of the Class of 1956 on Virtual Memorial Hall.
The "category" links below lead to lists of related Honorees; use them to explore further the service and sacrifice of the alumni in Memorial Hall.