RALPH R. BAURICHTER, 1LT, USAF
From USNA Virtual Memorial Hall
Birthdate & Date of Loss
| | |
| --- | --- |
| Date of birth: | September 15, 1927 |
| Date of death: | July 10, 1953 |
| Age: | 25 |
Lucky Bag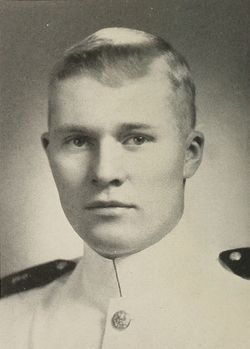 From the 1951 Lucky Bag:
Ralph Russell Baurichter

Clarksville, Arkansas

From the home of the Alberta Peach via the regular Navy, Ralph slipped through the door when Navy Tech opened its portals to NAPS . . . not an ardent dragging fan, yet always willing to give the fairer sex a break . . . thinks letter writing is a curse on mankind . . . will never tire of Scheherazade . . . football and lacrosse are his main athletic contributions . . . nothing spectacular, but always holding up his end of the line. . . Barr has a habit of hounding his wives about Sunday sweep-down . . . usually ends up behind the broom himself . . . will endorse a few good practical jokes . . . even on himself . . . thinks flying is the best form of duty and is anticipating plenty of hours jockeying a fighter around the sky ... an Ozark lad with a big smile you'll be hearing more of as time goes by.
Loss
From Find A Grave:
Columbus Evening Republican
July 15, 1953

BAURICHTER'S BODY IS FOUND
Funeral Services Saturday At Baltimore for Former Local Man.

The body of a former Columbus man, Ralph Baurichter, was recovered Monday from the wreckage of a B-29 bomber which crashed last week near Savannah, Ga. Funeral services and burial will be held Saturday at Baltimore, Md.

Baurichter had previously been listed as "missing" along with nine other air force men. There were no survivors. Wreckage of the plane was located Saturday by helicopter.

He and his parents, Mr. and Mrs. Walter Baurichter, moved to Arkansas from here about 10 years ago. The parents now live in Clarksville, Ark.

Also surviving is the widow, the former Miss Nancy Callahan of Baltimore, and his grandfather, John Steinker of Clarksville.

He attended Columbus high school for two years. An aunt, Mrs. Eleanor Baurichter, lives at 723 Third Street.
He is buried in Maryland.