RICHARD C. HORMEL, LTJG, USN
From USNA Virtual Memorial Hall
Birthdate & Date of Loss
| | |
| --- | --- |
| Date of birth: | 1947 |
| Date of death: | February 12, 1975 |
| Age: | ~27 |
Lucky Bag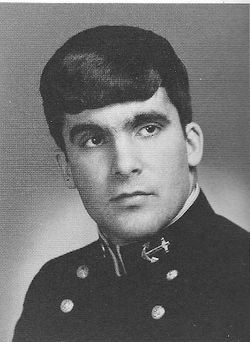 From the 1971 Lucky Bag:
RICK HORMEL

When Rick came to Navy from Miami, Fla., via NAPS he brought with him many attributes foremost of which was his class. No matter what ehe engages in of a competitive spirit, save the game of chance he played and won with academics, Rick displays the gutsy class which led the 150 lb football team to a combined two-season record of 11-1 and which led him to the All-League team both seasons. No one can deny that Rick has led a colorful life at USNA since he has participated in such varied campaigns as the Battle of Trieste and a strange case of mistaken identity in D.C. one night. At any rate, in Rick the Naval Service receives a future flyer possessing a unique combination of cool class under pressure and great leadership ability.
Loss
Rich was lost on February 12, 1975 when his A-7E Corsair II crashed near Lone Pine, CA. He was a member of Attack Squadron (VA) 12 and is buried in Miami Memorial Park Cemetery.